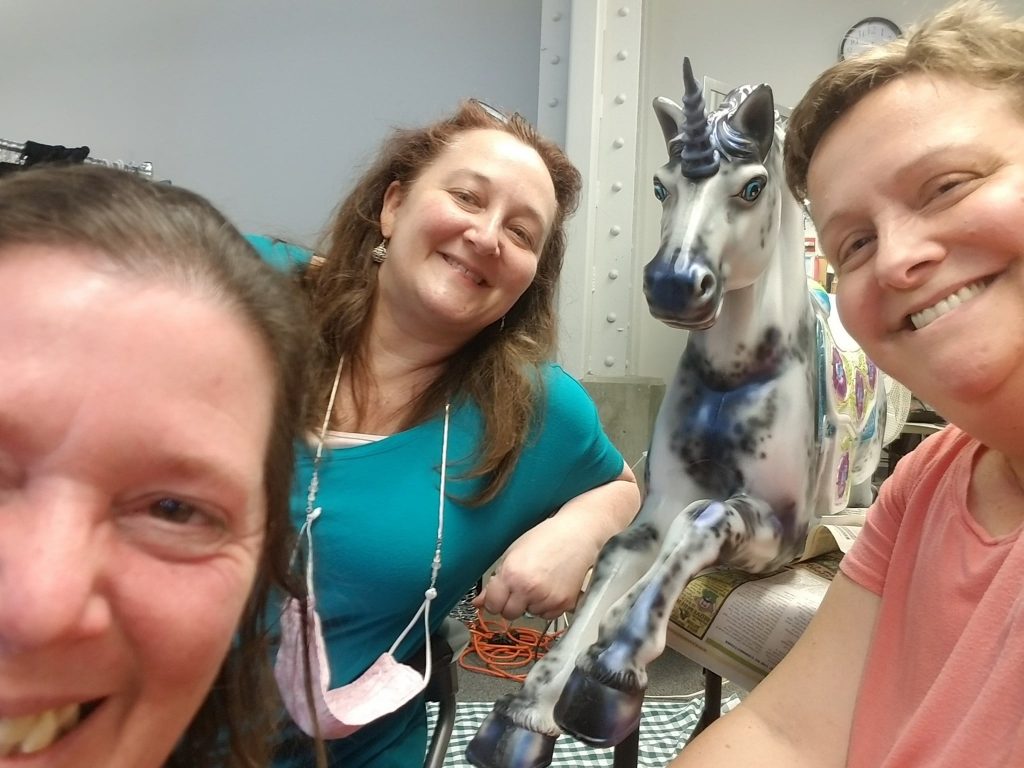 Remember those old-timey mechanical horses you'd find outside five-and-dime stores or pharmacies? Ever wondered whatever happened to those bygone era relics? Introducing the Pony Up! Quarter Horse Project. It's a unique endeavor for 30 artists from all over the world who are taking these ponies, which started life as 25-cent horse rides in front of stores, and turning them into works of art. The completed ponies will become part of a fundraising limited-edition coffee-table book and then auctioned or sold outright, with proceeds benefitting the operation of Wade's House, a charity that helps families that have lost children.
The KC Ballet is a recipient of one of these childhood artifacts. Say hello to Prima, their Pony Up quarter horse. We sat down with the Ballet's costume design and make-up team to find out more about their newly refurbished, gussied-up equine.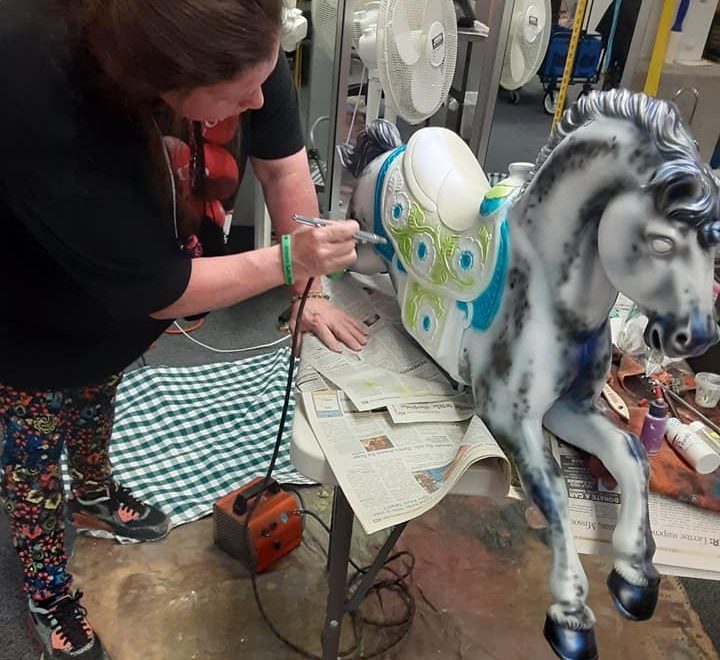 Tell me about your horse, Prima. Love the name! I spy an abundance of rhinestones—and even false eyelashes!
"We are costumers and makeup artists for dance, so we decided to create and costume a ballerina pony. We threw out lots of ideas about what direction we should go with her costume—including Odette or Odile from Swan Lake and the Sugar Plum Fairy from The Nutcracker. After much deliberation we decided she should be completely unique. We had a suggestion to make her a unicorn pony, so we did, and it allowed us to give her a fantasy feel along with being a ballerina." – Betti Jo Diem, assistant costume supervisor
 "Colleen Coffman, with her makeup and airbrush experience, was able to create the beautiful dapple on her body. Colleen also airbrushed the saddle, hand-painted her eyes, and with some help from Betti Jo, did some hand-painted detailing on the saddle and blanket. Betti Jo was also able to take a pair of point shoes, cut them down and create a pair of point shoes to fit Prima." – Jennifer Carroll, costume supervisor
How does one makeover a kiddie quarter horse exactly?
"The short answer is—any way they want. There's no limit to the ways in which an artist (or artists) may interpret giving any one of the ponies a makeover.  There have been no limits placed on the creativity beyond those of the imagination of the artists involved.
It's everything from paint and metal work, to plaster and beading, to ceramics, mosaics, graffiti, and much more. And, yes, case in point—costuming!" – Jaci McKim, creative director for the WJWF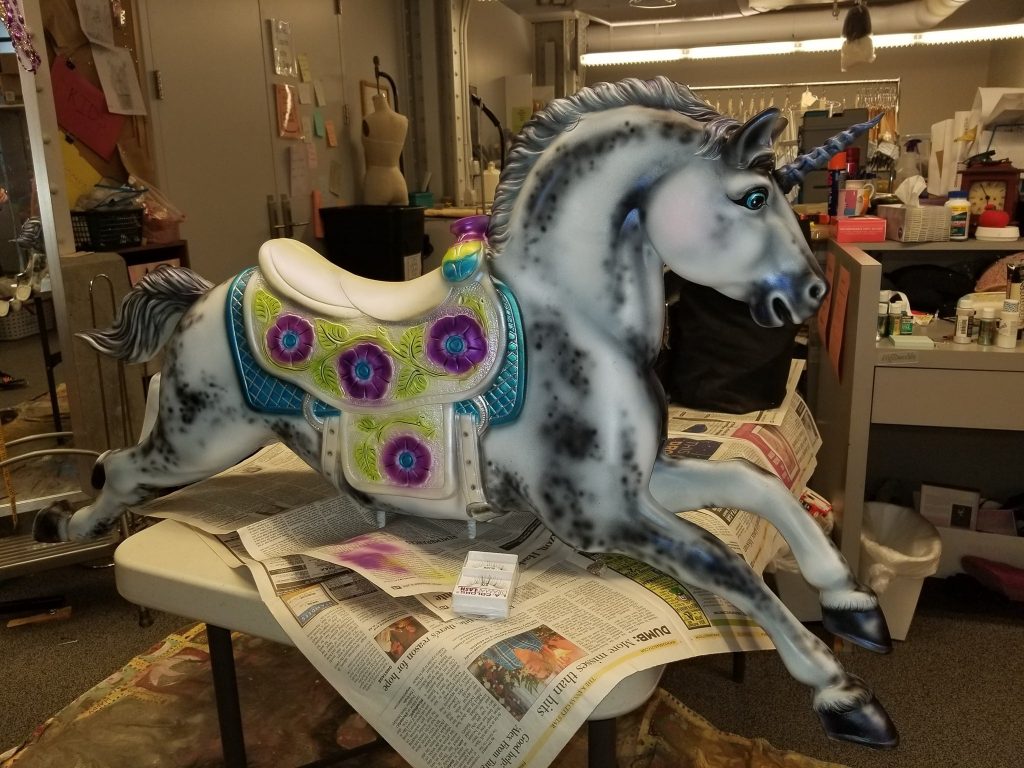 What's your inspiration and/or final goal?
"Our inspiration was to use our specific talents to create a piece of art that would hopefully be appreciated and valued in such a way as to benefit the Wade J. Woodmark Foundation." – Betti Jo Diem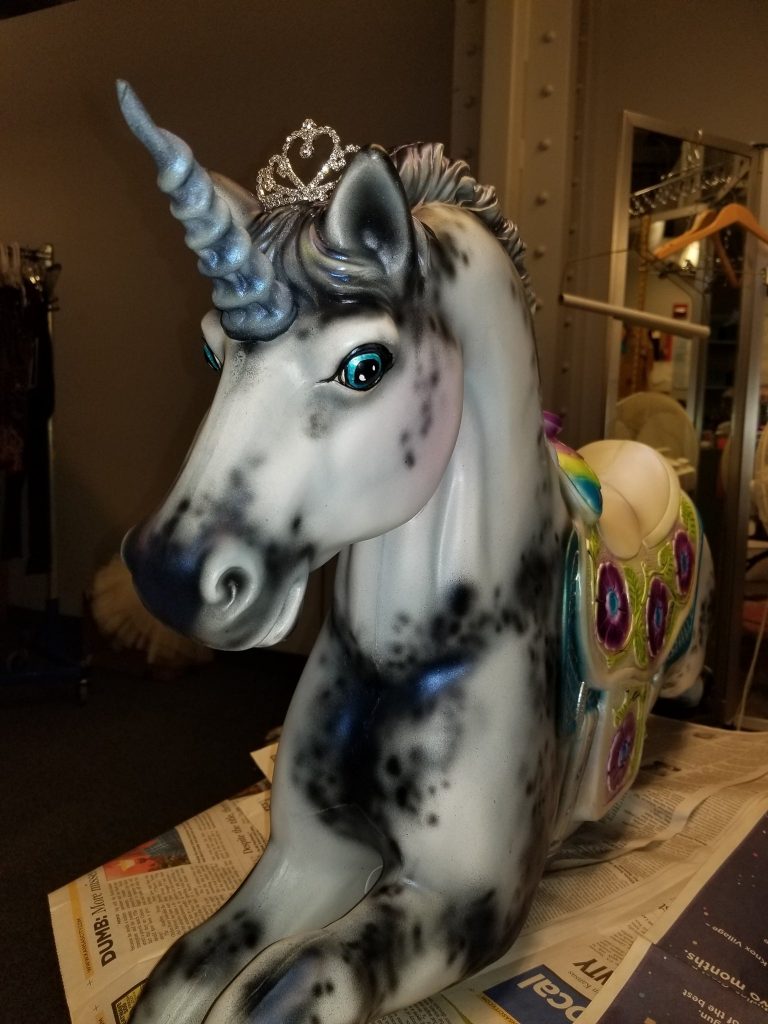 This is certainly a buzzworthy endeavor. What sort of response have you gotten thus far?
"We have just begun to spread the word about being involved in the project here in Kansas City. The project does have its own Facebook page, which seems to have quite the following." – Jennifer Carroll