Presented by Equity Bank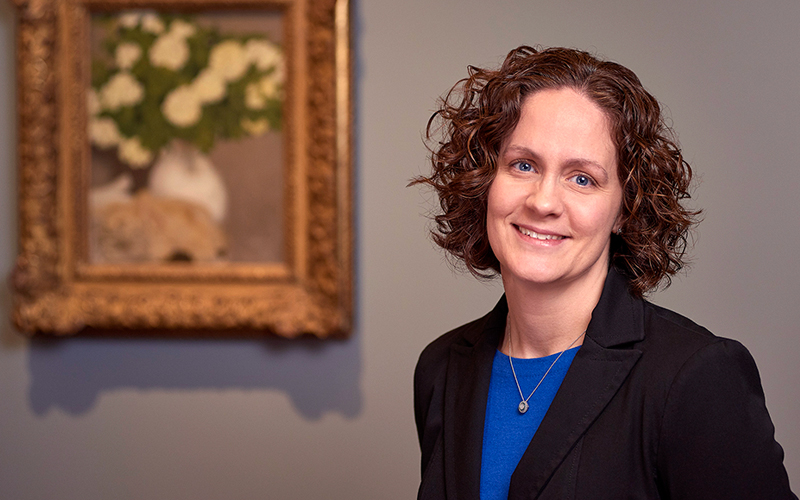 Maybe it's only natural that the daughter of a history buff would grow up to make a career of art history. 
Since 2015, MacKenzie Mallon has been the provenance specialist at the Nelson-Atkins Museum, tracking down the history of ownership of each of the 42,000 objects in the museum's vast collections.  "At the Nelson-Atkins, we are pushed by an interest in being proactive," says the Kansas City native, "so we are better stewards of art." In other words, they don't want to be surprised about a painting or a sculpture's previous owners, especially objects that might have Nazi-era connections; they want to know and make sure everything is aboveboard. 
Mallon's 2019 museum program Discriminating Thieves: Nazi-Looted Art and Restitution told the story of how the Nazis plundered art from Jewish households and art galleries during World War II, taking photos of each piece to send to Hitler for his approval. Maybe a painting or sculpture they found would earn a coveted spot in his planned art museum that never, thankfully, happened. Four pieces in the Nelson's collection had been looted by the Nazis, found after the war, returned to their owners, then legally acquired by the Nelson-Atkins.
If Mallon could ever bring home a work of art from a musuem, she's got her eye on a painting she first saw at The National Gallery in London—J. M. W. Turner's pre-impressionistic and atmospheric Rain, Steam, and Speed from 1844. "If I could pick it up and bring it here, I would," she says. All strictly legal, of course. 
Growing up in Liberty, how did you get interested in art history?
My father was a history major. Every family vacation included a visit to a museum. Later, when I was a history major at the University of Missouri-Columbia, I needed an elective and chose art history, and I loved it. I went on to get my master's degree in art history there. I'm drawn to provenance for what it tells me about people and the times they lived in, what they valued. A little peek into their lives.
What does a provenance specialist do?
A little bit of everything. I get to touch all aspects of the museum's collections—decorative arts, European paintings, African, Asian. Every day is different. I have the best job in the museum. I get to be the art detective.
I start with an object and look at the back of it. I know more about the backs of art than the front! I look for labels from exhibits, stickers from dealers, sometimes an inscription. It's fun finding something others might have missed. We want to know who owned the work of art from when it was first created to when the museum acquired it. But it's sometimes difficult, especially if the work is centuries old and records have been lost. Women owners are always a challenge, as long ago they were identified only by their husband's name, not their maiden name. 
I research old household inventories taken when the owner died, records like the Rothschild family's archive in London or the RKD in Amsterdam, art dealer records. Just recently, I found a clue in a 1950s Christmas card. A Hollywood producer once owned a painting in our collection. It went to his former wife, who was from Kansas City. When she died in South Carolina, among her papers in the South Carolina Historical Society was a Christmas card from him, with a poem he had written referencing the painting. 
This job requires creative thinking about where the information might exist. Provenance research is never really finished. There is always more information coming to light. 
What does an art detective do, off-duty, to hone her skills?
I read and watch murder mysteries. I'm a big fan of British murder mysteries by authors like Agatha Christie. I have probably seen every episode of Murder, She Wrote. And I love Midsomer Murders on PBS.
How has Kansas City nurtured your career?
I started at the Nelson-Atkins in 2006 as a part-time project assistant in the European department. I am so appreciative of our visitors who support our work. It is very gratifying.