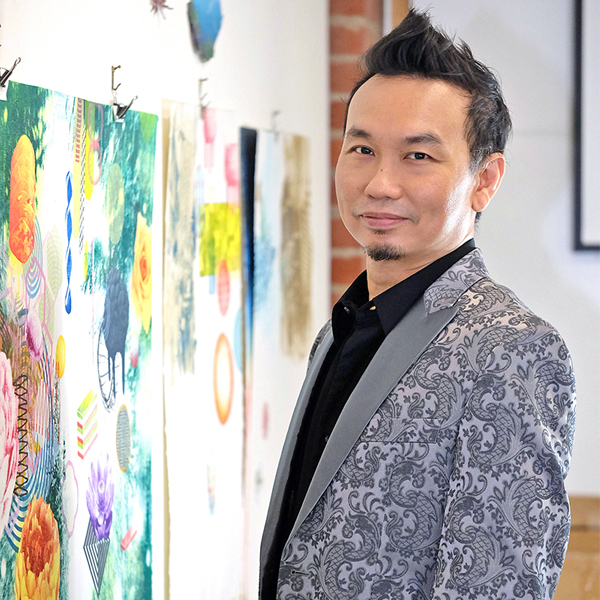 In a world that has historically asked us to be either/or, artist Heinrich Toh embraces the idea of both. Born in Singapore and a graduate of the Cleveland Institute of Art, Toh teaches and exhibits extensively throughout the United States. His exquisitely and colorfully layered images explore ideas of cultural identity, travel, and home. Flowers, paper lanterns, family photographs, geometric patterns, and motifs from Asian textiles seem to float in a timeless sea. His work can be seen locally at the Nelson-Atkins, the Albrecht-Kemper Museum in St. Joseph, Truman Medical Center, and Loew's Kansas City Hotel, as well as galleries around the country. Toh has a studio in City Market.
"Memories are fleeting with the ongoing assimilation to my immediate environment," he says. "Memories inspire me to seek what was once familiar while blurring boundaries between Western or Eastern culture."
All that introspective studio work can make an artist peckish. Toh loves Singapore cuisine because it is "amazingly, diversely delish," he says. "One of my favorites is Hainanese chicken rice, a ginger and scallion salty chicken you can find at ABC Café. My other favorite is a curry seafood noodle soup dish called laksa, my go-to comfort food at Spices Asian Restaurant in North Kansas City. Thankfully I love to cook, so everything else I'm not able to find I'll make myself. Cooking, like art making, requires patience, repetition, and fine tuning the ingredients till they come out spectacular."
Upcoming exhibits include:
You grew up in Singapore, but have studied and now teach in this country. How does your work explore the East/West duality of your own identity?
There are many facets about my work which investigate questions of identity and assimilation arising from travel and relocation. Past memories become fleeting, leading me to seek what was once familiar. By contrasting Eastern and Western sensibilities, my work reflects layered and overlapping cultural elements, combining past and present. While objects selected have specific connection to my personal history, these elements alongside vast landscapes explore the evolution of identity, its nonpermanence, the passage of time, and the remnants of culture. Constantly evolving, drawn from the dichotomy of two worlds.
Your work is very layered with imagery, colors, and composition. Do you start with a sketch/plan or just see how each layer develops?
Always a plan. It is an intricate process with many moving parts, similar to putting pieces together in a jigsaw puzzle. I do make a sketch with notes that indicate which layers go on next. Printmaking tends to be very precise and non-forgiving, but I'm at a point of being able to be more spontaneous and let the work evolve. I utilize a variety of printmaking processes, from collagraphs, monotypes, and paper-lithography, printed with multiple runs through an etching press, that result in those layers of color, pattern, and imagery that viewers often describe as ethereal mindscapes.
What is it about Asian textiles that resonates with you?
Timeless beauty. I resonate specifically with the Sarong Kebayas adorned by my grandmothers. I miss seeing these outfits with all their ornate floral laced patterns that were commonly worn every day in Singapore. Referencing them in my work is a reminder about my Peranakan heritage. These reinterpretations of floral, ornamental, and geometric shapes reflect new patterns, retaining cultural history while looking ahead into the future.
Why have you made Kansas City your home? How has this area nurtured your creativity?
It's been a growing creative journey living here, learning about myself  while embracing the nuances unique to the Midwest. There's a tremendous amount of talent in this city, each with their own unique stories, cultures that share similarities which embrace the positive differences that make us all unique. 
The opportunities from a flourishing KC arts scene has been most outstanding and perhaps more so now for the BIPOC [Black, indigenous, and people of color] artists community. I feel most fortunate and grateful to have the support from my patrons, peers, and the local museums that have been most supportive with having my work in their permanent collections.
Having lived in multiple U.S. cities before calling KC home for the past 16 years, it's important to remember that local art communities only become better and thrive from participation, being active, supporting, and showing up to your local art exhibits, concerts, or performances. Hint! Hint!