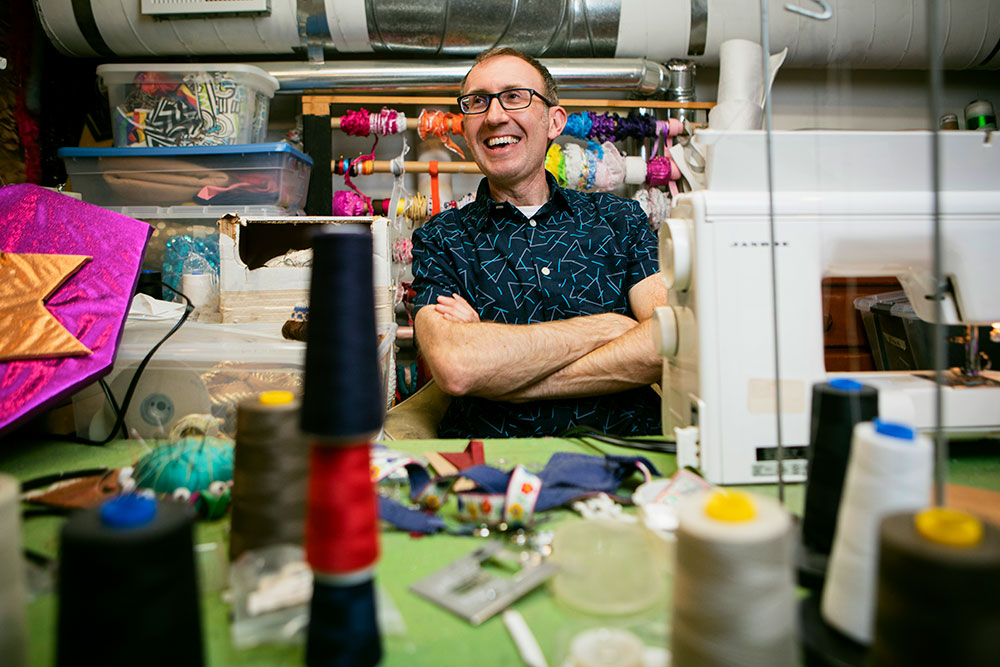 If you think puppets are just for kids, think again.  Puppets have been used for thousands of years to tell stories important to societies, whether for religious ritual or entertainment. Archaeologists excavating in Egypt have found ancient wooden forms operated by strings and clay forms worked by wires.  Some historians think that puppets predate actors in theater.
Kansas City is lucky to have its own puppet company, the beloved Mesner Puppet Theater. Since 2006, Mike Horner has been a creative force, designing, building, and performing. When founder Paul Mesner stepped away in 2017, he knew that Horner, with his "encyclopedic knowledge" of new styles of puppetry, could take on a leading role creating puppets that speak a universal language, from the beloved Ezra Jack Keats' story The Snowy Day to the classic Antoine de Saint-Exupéry's The Little Prince.
What sparked your interest in puppetry?
When I was about three years old, a touring puppet ministry group performed at my family's church in rural Nebraska. I was hooked immediately! My father was inspired as well, and he and my mom started their own puppet ministry with two other couples from church. They would build all the puppets in the laundry room, rehearse in the living room, and take us kids along when they toured to other churches. All of this fascinated me, and I knew this was what I wanted to do with my life.
It also helped that I was born right when the Muppet Show premiered and Sesame Street was the hottest thing on children's television!
What goes into making a puppet—for example, the puppets for The Snowy Day—and then making them come alive?
When making a puppet for a new play, you first ask yourself what style of puppet will most effectively serve the story. Different types of puppets excel at different things, and you want to be sure the style you are using contributes to the storytelling. A puppet has to be durable and withstand several weeks of daily performances, but also light enough that a puppeteer's arms won't throb in pain after a 45-minute show.
Bringing a puppet to life involves manipulating it skillfully enough to convey a particular emotion or action while still being subtle enough to allow the audience room to use their imagination to "fill in the blanks."
What are the ways that puppets can tell stories compared to other performing arts? Are puppets a more accessible medium for children?
Puppetry allows for the building of a unique, physical world with no ties to reality, thus letting the audience briefly forget about reality and immerse themselves in the story. Actors might be incredibly convincing in a play, but in the back of your mind you know you could run into them at the grocery store. A puppet performed in front of an audience only exists as a character during that performance; it's an illusion that exists in just that moment.
At its core, puppetry is play, which I think is why it's so accessible to children. Kids use dolls, action figures, and stuffed animals all the time to act out the emotions and relationships they experience in their daily lives. Seeing puppets performed on stage is a natural extension of what kids are doing with their toys.
How has Kansas City nurtured your career in the arts?
Aside from learning alongside our company's founder, Paul Mesner, being in Kansas City has allowed me to work with a wide variety of artists from many disciplines. Just about every art form can be used in puppetry, and seeking inspiration from the eclectic artists in the city has made my work only stronger. Several years ago we hired visual artist Matt Hawkins to design our production of Wizard of Oz. It was incredible to take Matt's drawings of those iconic characters and build them as dimensional puppets, and I now often find myself designing puppets in a "Hawkins" style. The inspiration goes both ways—Matt has been building some amazing puppets himself!