Over the years, writer Rebecca Coffindaffer has edited about 1,925,708 articles, editorials and columns for other people. But getting her own work published proved elusive. "I started writing forever ago. The first time I wrote a book and actually tried to get it published was when I was in high school—and I actually studied creative writing as a major at K-State University," she says. "It's been something I've been working toward for a long while, and I've written and trunked my fair share of novels in the process."
It may have taken a hot minute, but after a lot of blood, sweat, and wordsmithing, Coffindaffer scored a literary agent and hooked up with the squad at HarperTeen. Her first young-adult fiction novel, Crownchasers, is due out this fall. We caught up with the soon-to-be published, local author to hear about the book and, of course, her pending literary fame.
Tell us about your debut novel. Is it sci-fi? A thriller? Looks like you're hitting a lot of popular genres.
"Crownchasers is a young-adult space opera, but I've always been a multifaceted nerd at heart. I love fantasy, sci-fi, action, thrillers, paranormal, all pretty much equally, so when I write, I like to find ways to mash all my favorite things together. There's a lot of Star Wars influence in this—empires, space battles, planet-hopping—but there's also hints of Lara Croft, Game of Thrones, Star Trek, and call-outs to a bunch of my favorite sci-fi and fantasy stories over the years."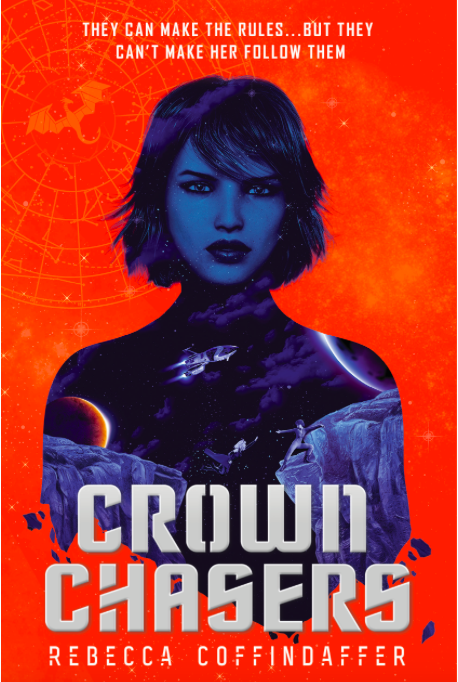 Got it! What was the genesis of the book?
"So for me, a book idea starts one of two ways: either I think up the world first and then figure out the characters who live in it—or I think up the characters first and then build the world around them. Crownchasers was definitely the latter. The main character, Alyssa Farshot, is this bold, sarcastic, daredevil planetary explorer, and her voice drove the book start to finish. It was so much fun to write from her perspective and really lean into her reckless sense of adventure."
What do you want people to know about your writing style?
"I think there are definitely some elements to my writing that come through in every book I write: I tend to write fast-paced plots, a lot of witty banter between characters, cinematic action scenes. We're talking big, commercial type of stories. I was asked to describe my author "brand" once upon a time and I said, 'Girls walking away from explosions in slow motion.' And I'd say that's still pretty applicable."
Sounds like you're generating some early buzz. What has the response been like so far?
"I've been very grateful to have some authors I really respect—Tessa Gratton, Natalie C. Parker, Sarah Henning, all Kansas City-area authors, too!—blurb this book and say ridiculously nice things about it. Reviews are just starting to come in, but one thing I've been proudest of is that people seem to be finding it funny. And it's definitely supposed to be! Alyssa is a smart-ass with a really wry voice, but humor is so subjective that I was definitely concerned that none of it would land with readers. But so far, so good!"


What's next?
"Well, Crownchasers is the first book in a duology, so right now I'm working on the sequel—Crownchasers 2: Electric Boogaloo. (Fingers crossed the sales team goes for that title!) The first book kind of leaves Alyssa and her crew with a big mess to clean up in a way, so it'll be wrapping up their stories and how it impacts the empire they live in. That comes out in the fall of 2021!"
Look for Coffindaffer's novel Crownchasers—which Harper-Collins is calling "an explosive first book"—out September 29 from HarperTeen. Click here for pre-orders.