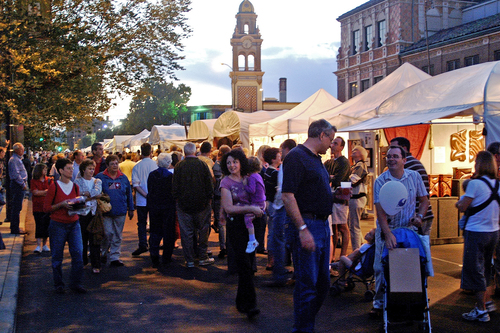 The 87th annual Plaza Art Fair is happening this weekend—one of the longest-running (and most acclaimed) art festivals in the country. A whopping 300,000+ art patrons are expected to converge upon the Country Club Plaza for the festivities. It's blossomed into one of Kansas City's most beloved annual events. This year 25 local artists from the Kansas City metro have scored a coveted booth to show off their wares. While you're out and about, make sure and swing by to show the locals some love. First up, a newbie to the Plaza Art Fair:
Mark Allen (photography) – Booth 107

"This is my first year showing at the Plaza Art Fair. Growing up in Kansas City, I have been a visitor to the fair for many years. I am excited to be back as a participating artist. I'll be showcasing my underwater photography from the past ten years of my career. The images feature models, props, and fabric underwater and are printed on glossy aluminum metal. They are mounted from behind and appear to float off the wall. I'm looking forward to meeting thousands of new people and sharing my work with them. I'm especially looking forward to meeting new collectors also. If you're around, come see my work!"
Ed Bartozek (painting) – Booth 235
Cathy Broski (sculpture) – Booth 321
Jerry Brown (drawing) – Booth 505
Chris Dahlquist (photography) – Booth 300
Terry Evans (wood) – Booth 207
Cheryl Eve Acosta (jewelry) – Booth 250
Dana Forrester (painting) – Booth 334
Steven Hill (ceramic) – Booth 530
Meredith Host (ceramic) – Booth 247
Andrew Johnson (2D mixed media) – Booth 227

"Besides being in my back yard—as I live in Brookside—and being one of the best art fairs in the nation, the Plaza Art Fair is always a huge thrill for me! Kansas Citians are wonderfully enthusiastic art supporters and are eager to look and buy. The fair feels like a kick-off for fall as the weather turns pleasant and everybody comes out! I was absolutely gobsmacked the first year I got in. This will be my 12th year as an exhibitor and patrons have shown me lots of love every year. I feel like I'm a rock star for the weekend! It's very special being there and being part of a wonderful tradition in the crown jewel of Kansas City. Plus, I've had many opportunities come my way thanks to the Art Fair. One year, buyers from The American Folk Art Museum in NYC purchased several of my pieces to put in their shop. Another time Marilyn Maye bought my work. It's always just great fun to have my booth filled with friends, family and customers—all having a good time!"
Klaus Kuntsher (painting) – Booth 523
Rusty Leffel (photography) – Booth 145
Mike McMullen (photography) – Booth 205
Jenny Meyer-McCall (2D mixed media)

"This is my ninth year at the Plaza Art Fair. It's my favorite one to do. Not only is it my hometown, but people love having a local artist in. I'm able to connect with the people who live here. I prefer to talk and get to know people, so I can have recurring customers who don't have to wait another year to meet me. I do so many custom things where I incorporate people's physical belongings in to my artwork. Some people buy art right off my wall, but most people want something very specific. Right now? It's a rush. Two weeks before I'm on pins and needles. Still painting, still pushing, still in my groove. I'll paint right up until the day of—and as long as the weather is good, it's gangbusters. Oh—and insider tip: There's usually a lull in the middle of the day. Two or 3 p.m. is when it's the quietest."
Teri Miller (2D mixed Media) – Booth 230
Robyn Nichols (jewelry) – Booth 323
Laura Nugent (painting) – Booth 223

"I participated in juried outdoor art fairs for 15 years. I drove 120,000 miles around the US, exhibiting and selling my work. The Plaza Art Fair is the only show of its kind I do now. My first Plaza was ten years ago. It was the craziest weekend I'd ever experienced. The energy of the event was such that the paintings were quaking off the walls of my booth. I'd never seen so many people and I'd never felt as appreciated by the community, simply for being there and sharing my work. I think of the Plaza as an elevating experience for everyone. The Plaza is my annual opportunity to meet and show what has been happening in my studio. The community of artists who travel an art-fair circuit is like nothing else I've known. Since coming off the road a couple of years ago, I haven't missed the grind, but I long to see my friends. The Plaza will be my only chance to briefly visit with many of them. I get choked up even thinking about it and am anxious about how I will connect with them whiledoing the show. There are so many layers to this experience for all of us participating and I want our audience to share in it. My booth is across from Tivol."
Anthony Pack (3D mixed media) – Booth 242
Charlie Podrebarac (painting) – Booth 400
Seth Smith (painting) – Booth 500

"This will be my sixth year showing at the Plaza Art Fair. This show is very special to me—I meet so many incredible people each year. It such a privilege to have new patrons reacting to your work in real time. Plus, I get to interact and engage with them—not only about what I am making, but with the art world in general. I've traveled all over doing these types of shows and I can honestly say that Kansas City has the best 'art crowd' in the country. Not only do they support artists by purchasing work, but their encouragement and enthusiasm is unmatched. The Plaza itself is such a beautiful location and the staff that puts on the event is top notch. I'll be on the corner of Broadway and Ward (as always!)"
Heinrich Toh (printmaking) – Booth 317
Brad Ultican (drawing) – Booth 408
Desiree Warren (metal) – Booth 515
Alex Weston (ceramic) – Booth 245
2018 Plaza Art Fair Hours:
Friday, Sept. 21 • 5 p.m. – 10 p.m.
Saturday, Sept. 22 • 10 a.m. – 10 p.m.
Sunday, Sept. 23 • 11 a.m. – 5 p.m.