Over the last decade, Dwight Smith and his wife, Beth Low-Smith, have built Collection Elizabeth Oran, their personal collection of artwork they believe sparks conversations.
"I have always gone out of my way and not shied away from pieces that were a reflection of how I think versus what would look good in my house," Dwight Smith says. "I'm not looking for something that looks good above my couch, but that's going to make you walk in the house and think, 'oh shit,' and then we talk about that moment."
Currently, dozens of pieces from Collection Elizabeth Oran are in Plug Gallery's newest exhibition, Words & Silences, which is made entirely of works the couple has collected that mix language and images to touch on social topics.
The exhibit is on display through June 3, and we chatted with Smith about his hopes for the public viewing experience.
You like pieces that spark conversation and make people ask questions. How did that translate into putting together this exhibition with Plug?
I knew that I wanted it to have a high impact. I was like, "Let's try to find a direction or a particular element of the collection that we could expand upon." Then after folks collectively said, "Ooh, I like this piece," "Oh, I like this one," "I like that one," I saw everything they liked had text in it. So why don't we just do a show with text? I think a lot of it came out from discussions about what we wanted to say.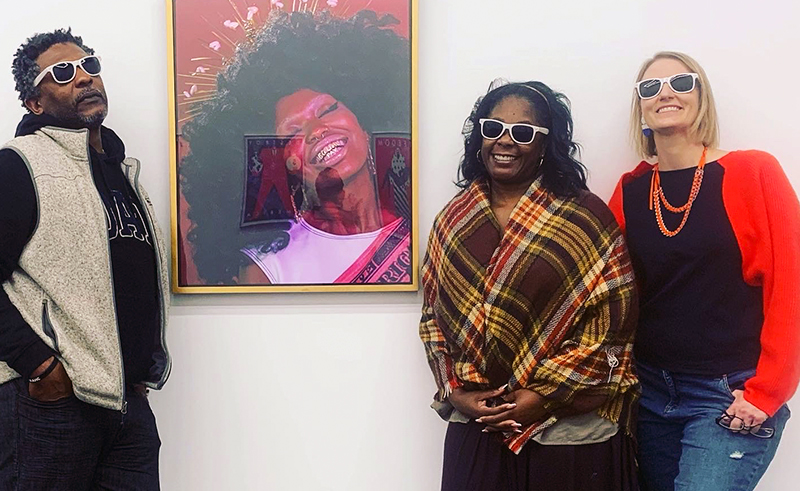 Tell me about the pieces that were selected.
We ended up with about 20, and we're splitting up the exhibit into two parts to fit more in. The first part will be up until about mid-May. It gives us a chance to highlight and focus on all kinds of different elements, aesthetics within the text dialog. We have multiple languages—it's not just English, that was one thing I wanted to make sure that we addressed. Part of the question was making sure that we had as many of the populations that we serve (in Kansas City) in the collection to make sure that they're represented. That's the easy part, because I purposely go out and look for art from these folks. Then it was how do we pair them and make it look good? So having local, national, and international artists was one thing we were balancing. We have a really great assortment of artists from Kansas City standing next to some great headliners—as they should.
Do you think any of the pieces will lead to conversations about local issues?
I think a lot of the issues transfer—they can go from local to global. We've got one piece by Michele Pred and Autumn Breon in the show that's about equal pay. It's a woman and she has a grill. The grill says equal pay on it—and that wage gap is real. I think the issues that we're addressing, while they could be considered local, they are issues that need to be addressed no matter where you are. We've got works from the Asian community from Latinx communities and the LGBTQ community. So in each one of those, folks are saying their thing. I think that's the beauty of some of these messages.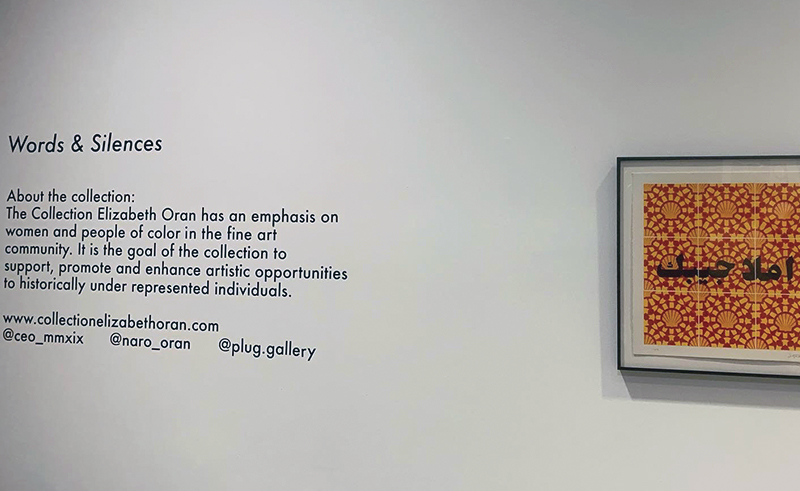 What are your favorite pieces in the exhibit?
Some of my favorites you'll see in the remix (part two of the exhibit). There are four pieces that are very cool and very trendy by an artist named Kamara Townes. Her Instagram tag is @wavywednesday; she's currently an MFA student on the East Coast, and she's a young Black artist who does pop art. She did a Black Barbie series in pop style—which in pop style, it is very common to have little word bubbles, typically with a protagonist and an antagonist. So in those, you usually have the white girl and the Black girl in each image. In one of them, the white girl asks the Black girl if she can get her hair done in a traditional manner. She asked for the hairstyle in the best way she knows how and the Black girl goes, "Oh, you mean Bantu knots?" Basically educating her with the proper way to say it. They typically feature a discussion that is had often by Black folks who are friends with white folks. I think those pieces are important because I share them with my family, and my nieces actually each had a Barbie piece in their rooms–I had to tell them, "Hey, these are going to be gone for a little while for a show." And they said, "That's okay, but we want them back." I'm glad they love them so much because that's the intent. The Wavy Wednesday pieces are just amazing works of art.
This interview has been edited for length and clarity.