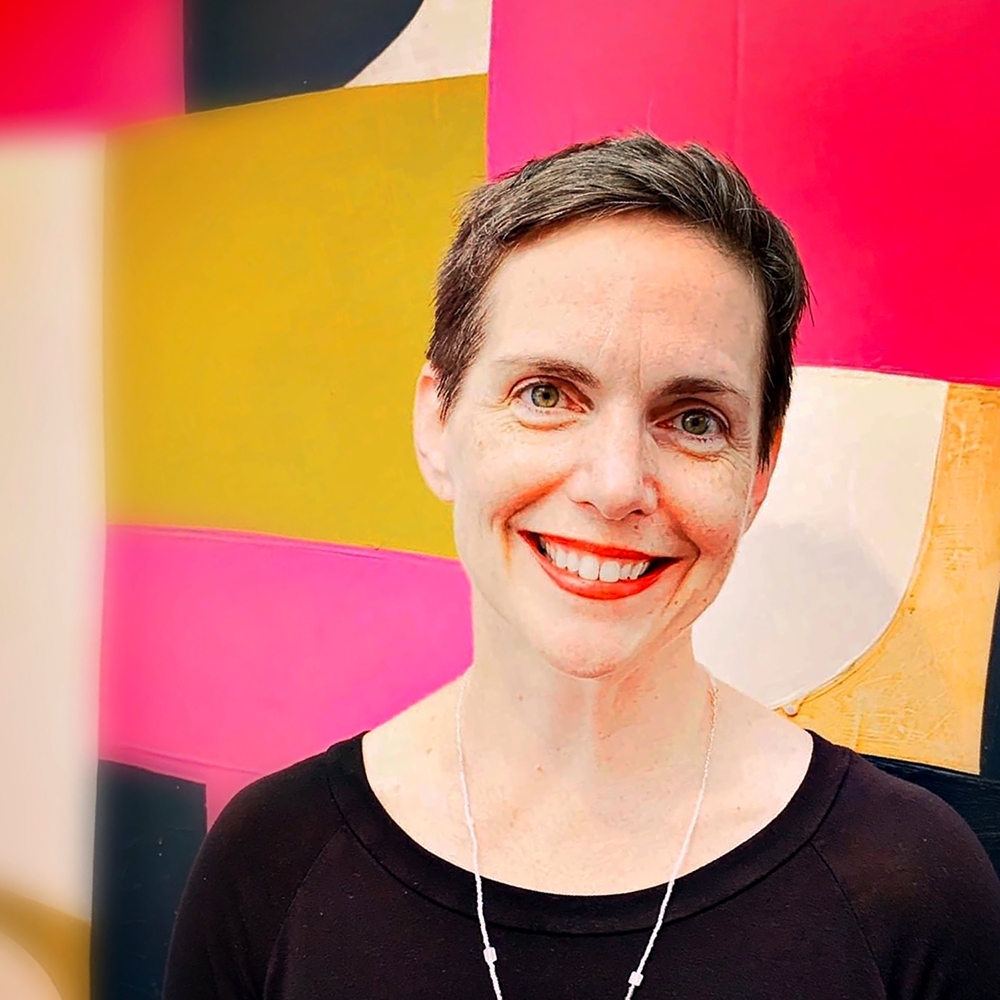 For artist Laura Nugent, "Color is my hero," she says.  "My paintings are open, direct, and proudly optimistic." Her non-representational, contemporary works explore the tensions of form and color. Often she doesn't know where they are going when she first puts paint to surface; she lets them evolve over time until the problem—relational, spatial, coloration, geometric—is solved.
After earning a BFA from the Maryland Institute College of Art, Nugent worked her way around the United States, exhibiting her paintings in many cities. Today she calls Kansas City home and has exhibited at Weinberger Fine Art. Her paintings can also be found in many corporate collections, including Hallmark and Black & Veatch locally, the Four Seasons Hotel in Chicago, and Pinnacle Bank in Nashville. She was featured in an event at Michael Smith Restaurant in the Crossroads: An Evening Celebrating Art + Artful Food.
Nugent is also well-known for her support of other artists. "It is as important to show up as it is to be alone in your studio working," she says.
With art fairs going online, canceled, streaming exhibitions, or featuring art-by-appointment-only, COVID-19 has created a new environment for visual artists. How are you adapting to the new normal? What do you do differently at least for now?
Being a painter for nearly 30 years has connected me with a lot of artists and art enthusiasts all over the country. In Kansas City, the bond is largely fostered by the in-person events we gather for: studio visits, art fairs, museum exhibitions, First Friday gallery openings. I will continue to participate in whatever way our community agrees is wise and invite people to see my work however they are comfortable doing so.
With exhibitions and juried art fairs on hold, I have remained productive in the studio. Like before, I am exploring color relationships in a softly geometric composition. What is new are the surfaces: oddly shaped repurposed paper. And also, the why: I'm making paintings for no particular destination.
Apart from painting, I have attempted to close the distance that we are all experiencing by going beyond the immediate text message. I've sent handwritten postcards and notecards with catalogs by the dozen to peer artists, collectors, my gallery representatives, family and friends. The response has been encouraging: "You made my day" is the most common reply. The six packets of yeast I sent to my brother-in-law in Boston, well, that was a home run.
You characterize your paintings as "colliding blocks of color made orderly over time " and "strongly autobiographical." A recent reviewer described your work as "meditative geometry." What is it about geometric shapes and colors that fire your imagination?
Being a painter means inventing a problem on an otherwise pristine canvas. My first move, a painted line, geometric shape or block of color creates a dilemma that I may or may not be competent enough to handle. You would think that the builder of the puzzle would know how to solve it. Not necessarily. But there is job security for sure.
Most of the time spent with a painting in progress is challenging for me. The writer who called my work "meditative" was correct if she meant that my process requires intense scrutiny to achieve a result that satisfies me as a viewer. I would not romanticize it to sound like painting is some sort of relaxed experience. The urge to tear it down and start over is ever present. Can I solve this formal problem with the elements that are already on the canvas or do I need to begin again? Where did that original idea, that seemed so achievable, go to? What if I am hit by a bus before it is finished and someone who doesn't already know me sees this ridiculously terrible painting?
When I refer to my paintings as autobiographical, I mean to say that I can tell you what was happening around me when I was making them. My responsibility as an artist is to be observant and reflect the results of that back to an audience. The work I am making now is a future memory of this surreal time.
Tell us a little about your process. What materials do you use? How do you let a painting evolve? When do you know it's finished?
The reason I chose painting as a medium and have stayed with it for so long is that I like not knowing how it will end. I'm a viewer too, not just a maker. A predictable resolution to me is something other than painting. I also think painting requires changing out of your good shoes if you don't want them to become your painting shoes. It has become fashionable for people to describe other media as "painting with fill-in-the-blank material" like "I paint with rocks" or "I'm a painter but I use cellophane." I'm a traditionalist. Painting should involve paint and make an indelible mess.
My painting practice is a spontaneous one. The result is human, right down to the imperfection of my painted lines. The variables of mood, health, age show me the effects of time on my work. Ten years ago, the brush in my hand made a very different line than the one I manage now.
You live and work in Kansas City, but have exhibited all over the country. What is it about Kansas City that nurtures your creativity and your career?
When I moved here in 2004, I began to fully access my career as an artist. The Kansas City Artists Coalition was a huge part of my development and continues to be a resource for me, both as an artist and mentor to others. It is a little scary right now since so many of us rely on our work professionally and for income. Having said that, art is also a vocation, a higher calling and path that we as artists pursue in spite of adversity, whether or not it is paying all the bills. It sustains all of us in ways that are beyond the material.