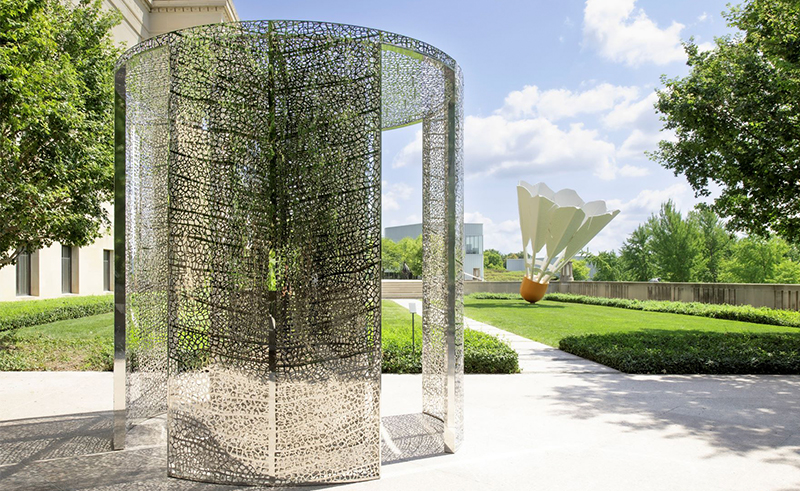 The next time you stroll through the Donald J. Hall Sculpture Park at the Nelson-Atkins Museum of Art, be on the lookout for a new sculpture crafted by Mexico City artist Jan Hendrix, which joined the sculpture park on September 14.
"Jan blends the special sensitivity of a modern aesthetic with a tribute to nature," says Julián Zugazagoitia, director of the Nelson-Atkins. "Mirror Pavilion was inspired by the coastal vegetation of Australia, and its placement in the sculpture park puts it into unique dialogue with our immediate surroundings in Kansas City."
Made of stainless-steel circles cut with patterns of banksia leaves, Mirror Pavilion reflects the viewer's image through the metallic foliage to encourage visitors to contemplate the human impact on nature's fragility.
"I think of myself not as an artist, but as a translator," says Hendrix. "The process of making art is distancing oneself from reality, converting the information into other elements that start to live their own life." 
After appearing in a London exhibition, Mirror Pavilion is now a permanent installation in the Nelson-Atkins sculpture park and Hendrix's second art display in Kansas City. His first Kansas City sculpture soars over the dining hall of Pembroke High School.