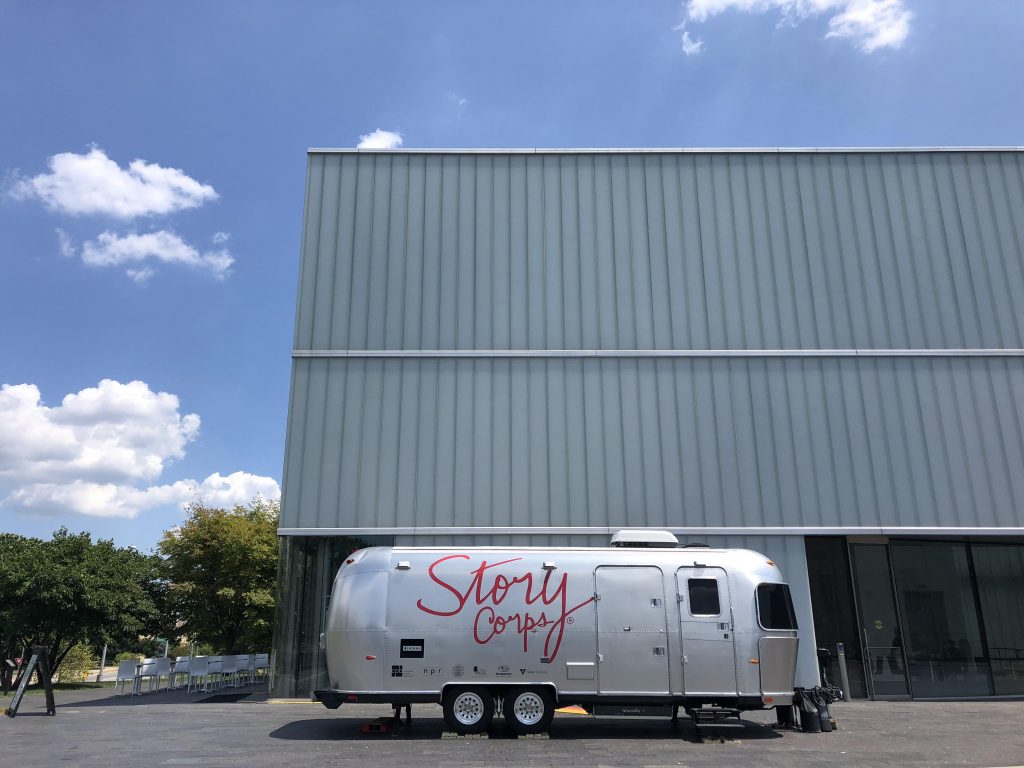 The questions are meant to elicit some heartfelt, profound responses. "Who has been the biggest influence on you? What's the happiest moment of your life? Is there anything you've never told me that you want to tell now?" For the team who runs StoryCorps Mobile Tour, they're never quite sure what the answers will entail. That's all part of the process—an intimate 40-minute gabfest where participants converse "with someone they care about in their life," says Jacqueline Van Meter, site manager, StoryCorps Mobile Tour.
Since 2003, StoryCorps has eagerly listened to over 250,000 Americans record interviews about their lives. The goal? To pass wisdom from one generation to the next, and to leave a legacy for the future. It is the largest single, archived collection of human voices ever gathered.
And thanks to the addition of a couple Airstream trailers, StoryCorps has been able to take their act on the road gathering audio from big cities to rural venues. The small-but-mighty team arrived in Kansas City a couple of weeks ago and set up shop on the grounds of Kansas City's Nelson-Atkins Museum. It's the third time StoryCorps has made an appearance here in the metro.
Response has been phenomenal. There's now a waitlist to get behind StoryCorps microphones. Why so much interest? Easy. People want to be heard and be represented. "This is the magic of StoryCorps," says Van Meter. "To actually sit eye-to-eye and tell you what I love about you. It's direct. You're not performing a dialogue—you're just telling people you care. There's an electric charge in the air."
Conversations are facilitated by someone on the StoryCorps staff. "We are taking notes, listening intentionally," says Van Meter. "We listen closely to make sure both participants are getting out of the experience what they want." The staff only jumps in only if the conversation starts to wane or if they have the occasional follow-up question. For the most part though, it's just back-and-forth banter between two people who are ready to get real with one another—which can often cue waterworks. "In my experience, 15 to 25 percent of all the interviews cry. Not like boo-hoo, but they'll get misty. I like to ask people at the end to tell each other what you love about each other," says Van Meter. "There have been times I've cried when the participants don't—and that's pretty embarrassing. People talk about experiences that are really beautiful."
Kansas City's public radio station KCUR has teamed up with StoryCorps to air some of the local conversations on Monday mornings. (You can also listen in to other participants on NPR's website and/or podcast.) Matthew Long-Middleton, community producer for KCUR, is charged with whittling down the conversations to a digestible, listener-friendly timeframe—usually around 4 to 6 minutes. Some of the stories are a vibrant slice of life, others juicy. His job is ambitious—to give listeners a story with a beginning, middle and end reflection all while keeping the genuine dynamic about the two people intact. "It's about anything they choose to talk about. It can be pedestrian or, more frequently, they have really heavy questions they want to ask each other," says Long-Middleton. Whatever the case, most of these stories would go untold in mainstream media if it weren't for StoryCorps.
How do they get participants to open up? Trust is key to getting the storytellers to get out of their own heads. Many are nervous and it's the facilitator's job to put them at ease. "Their guards are down because they're talking with someone they care deeply about," says Long-Middleton "We don't want to abuse any of that trust.  When editing it, I really try and capture the spirit of what they say and the totality of all of it." At the end, participants are given a copy of the conversation. They're also given the option to scrap the recording altogether before being broadcast or archived. "It's completely up to them whether or not they want to share," says Van Meter.
Only a smattering of participants actually opt out because they want their stories on the record. "I'm an open person except for a few things—what goes on in the bedroom, stays in the bedroom, my money and who I vote for," laughs participant Carmen Siers. "I think it went beautifully. I think it's really wonderful to have a chance—for people who would never know us—to go down in history. It was very easy and simple."
Outreach partners play a big role finding off-the-beaten path folks who want to share their narratives. "It's become really important to us that our archive reflects the demographic and experiences of all walks of life across the United States," says Van Meter. "What is happening in this community? What kind of experiences aren't being told enough and how can we provide an environment so it creates a starting point for those conversations to happen? We want those stories to be reflected in the archives so that years from now it's on historical record. We've had a ton of organizations already book appointments for the first half of our stop in KC."
Interested in being a part of StoryCorps? It's not too late to get on the waitlist as they do occasionally have last-minute cancellations. If you want to share your story, they're more than ready to record it for posterity and ultimately be archived in the Library of Congress for future generations to appreciate.
"There's a vibe in here," says Van Meter. "You can honor one another by interviewing one another. I'm just here to keep people on the rails."