Behzod Abduraimov in Concert
Uzbek pianist Behzod Abduraimov's prodigious talent blazed a trail from his birthplace in Tashkent to Park University's International Center for Music in Parkville, Missouri. He is now their artist-in-residence. The British newspaper The Independent described him this way: "The most perfectly accomplished pianist of his generation." London's Daily Telegraph swooned over his performance: "The most enthralling roller-coaster ride of a Prokofiev third concerto imaginable." The New York Times dubbed him "master of all he surveys." Abduraimov has performed all over the world, from London to the Los Angeles Philharmonic to the Seoul Philharmonic Orchestra. And now he performs—check ahead to see if live or livestreamed or postponed—at the 1900 Building on March 3.
Abduraimov's solo piano program is also swoon-worthy, a lyrical swath of composers. Robert Schumann's dramatic Kreisleriana opus 16  was inspired in part by the composer's love for his wife, Clara.
Aduraimov will shift into the solitary dreamworld of Franz Liszt's Benediction de Dieu dans la Solitude from 1845. And then Sergei Rachmaninoff's Corelli Variations opus 42—a theme followed by 20 variations—first composed at the musician's home in Switzerland in 1931.
Tickets required. As always during the pandemic, check ahead to make sure the concert will go on as scheduled.
Two New Exhibits at Sherry Leedy Gallery of Contemporary Art
When March winds howl in the Crossroads District, it's the perfect time to pop inside for two new exhibits at Sherry Leedy Gallery of Contemporary Art.
If anybody can bring two seemingly opposite sides together, it is artist Rebecca Rutstein. In Topographies of Time, she merges art and science in wondrous creations that seem to explore the ocean's floor or the inner workings of organisms. Her paintings incorporate structural networks that allow us to see patterns found in nature, data, maps, micro and macro, handmade and mechanized, linear and solid. Normally hidden from view, these images engage us with a peek into hidden worlds. Recently, Rustein collaborated with scientists onboard research vessels working with sonar mapping data of the ocean floor. She'll go there again in the submersible "Alvin" where she will see first-hand the network of organisms that communicate through bioluminescence. Her work just glows.
Artist Jeff Robinson explores the feeling of fleeting yet indelible memories in Nostalgias. Lightning in a bottle, as he calls it, all portrayed in a muted palette. A couple shares a laugh at a chic bistro in the 1940s, ladies dressed to the nines awaiting a society ball in the 1950s, or a celebrity letting loose with unbridled joy at Studio 54 in the 1970s. We're spectators of these moments in time, yet we want to engage in witty repartee at that cafe, be a fly on the wall at that gala, and dance on that table.
The exhibits run through March 20. As always in the pandemic, call ahead to ascertain gallery open hours.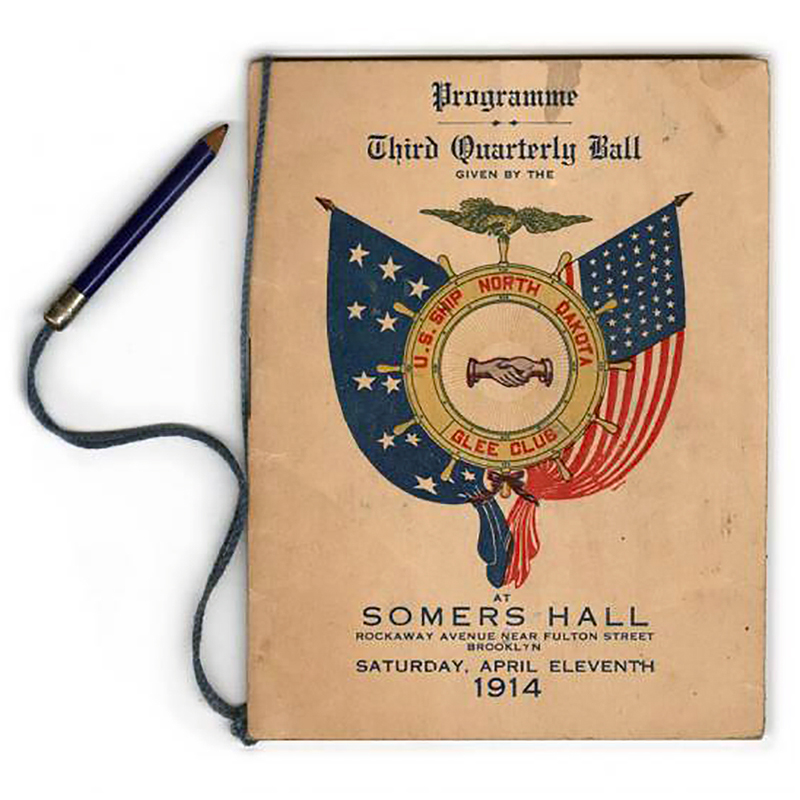 Why Keep That?
The World War I Museum's newest exhibit Why Keep That? asks a good question in an age of minimalism and Marie Kondo. This array of 16 objects, some of them ephemera not really meant to be kept, takes the viewer on a first-person guide to museum collecting.
Sometimes objects meant to be used and discarded—ticket stubs, written scraps, advertisements—can also offer a peek into times past.  It also gives us a peek into how museum staff evaluates each piece and decides what it might add to our understanding of life a century ago. Like Julia Child's junk drawer in her kitchen exhibit at the Smithsonian, which contained a signaling mirror from World War II—What? I forgot I had that—the things we keep can take on new significance.
Highlights of the exhibition include "Barometer of Feelings"—a chart which provides a weekly timeline of the war through one woman's emotional reactions—as well as dance cards, receipts, coupons, and posters that tell the story of life away from the Front.
Michael Krueger (Just Like) Starting Over
New year, new president. Isn't that just like starting over?
Yet no matter how or when we start over, something always touches whatever came before. That's a quality apparent in the work of Michael Krueger, who also teaches in the art department at the University of Kansas. Images hover over the surface, coming to the forefront of what has gone before. His new work includes large-scale paintings, watercolors, and intimate colored-pencil drawings looking to nature for clues to resilience, opportunity, and community. Metaphors are embedded in the subject matter expressing optimism and hope. Says Krueger, "This work perhaps speaks to how many of us are feeling as we slowly begin to emerge from our cocoons and have an opportunity to see the world anew."
Michael Krueger's work has been included in over 300 exhibitions in the U.S. and Europe, and recent solo exhibitions include prestigious venues such as: Académie Beeldende Kunsten, Ghent, Belgium; Steven Zevitas Gallery, Boston; and Blackburn 20/20, New York City. View (Just Like) Starting Over at Haw Contemporary Stockyards (1600 Liberty), March 12 through April 21.