Frida Kahlo's Garden
After a winter of seven kinds of snow and never-ending school closings, it's time to go back to the garden. But not just any outdoor space—one inspired by artist Frida Kahlo's private garden at Casa Azul (Blue House) in Mexico City. Born in 1907, Kahlo used emblems of the natural world in her art as well as in her dress. Native plants such as sunflowers, elephant ear, cacti, and dahlias mixed with European ivies and roses. She also favored native fruits like the prickly pear and mamey sapoto as well as citrus fruits introduced into Mexico. Her pet parrots roamed freely outside and in her house. Indigenous and colorful elements found their way into her remarkable paintings. The premier, ticketed event kicks off on the evening of April 6 with live music, cocktails, and food inspired by indigenous Mexican cuisine. Enjoy a performance by Kansas City playwright and actress Vanessa Severo, who portrays Frida Kahlo in Frida: A Self Portrait (performed at the Kansas City Repertory Theatre beginning April 19). The exhibit runs from April 6 to May 25, made possible through the National Endowment for the Humanities, at Powell Gardens, in Kingsville, Missouri. Click here or call for your $50 ticket at 816-697-2600 x306.

Sunflower Poetry Slam
Poetry readings can be a sure cure for insomnia, but not a poetry slam. Sometimes heart-wrenching, sometimes in-your-face, often thought-provoking, a slam features original poetry and creative wordplay with an edge because it is performed, not just read. Like speed-dating or karaoke, there is a time limit, usually about three minutes. No props, no music. Just you. Kansas City has hosted monthly poetry slams, but this month the event crosses the state line. Sunflower Poetry Slam and Open Mic, hosted by Jen Harris, chills out on April 18 at the Lenexa City Hall at 6 p.m. Ten slots are available, first come, first served. And to top it off, a $50 prize. No cover charge.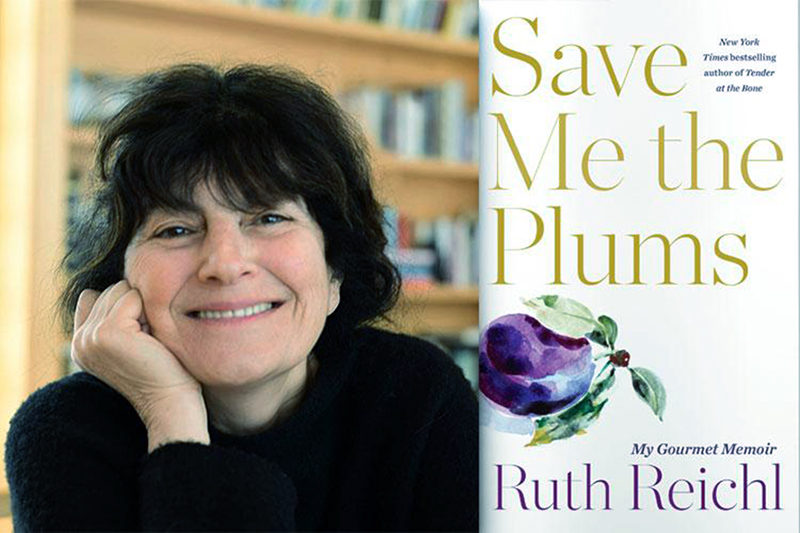 Comfort Me with Apples, but Save Me the Plums
In 2009, Ruth Reichl was in the middle of an interview in Kansas City to promote Gourmet magazine's new cookbook when she got the call. The publisher was pulling the plug on the 70-year-old magazine. Reichl, who had been editor-in-chief for ten years, was shell-shocked. And out of a job.
In her new memoir Save Me the Plums, Reichl recalls a childhood in which she read stately Gourmet magazine at eight years old, even though her mother was a horrible cook. After moving to Berkeley, Reichl rode the tide of California cuisine, when winemakers and groundbreakers like Alice Waters changed the way Americans ate. When Reichl agree to helm Gourmet, she changed it from a white-tablecloth tome that generals' wives would comb for seven-course meal menus to a cutting-edge magazine that ended all too soon. Reichl will talk about her life on April 25 at 6:00 p.m. at the 1900 Building through Rainy Day Books, a ticketed event.

All That Jazz
Legendary trumpeter and ten-time Grammy winner Arturo Sandoval brings his unique Latin jazz sound to the Folly Theatre on April 27th at 8 p.m. Growing up in Cuba, Sandoval started to play trumpet at age 12 and learned from street musicians. He was also influenced by Kansas City great Charlie Parker. Dizzy Gillespie became a mentor; Sandoval defected while touring with Gillespie in the United Nations Orchestra in Rome. He eventually became a U.S. citizen in 1998. A 2000 film For Love or Country: The Arturo Sandoval Story starred Andy Garcia. Sandoval also played and performed in HBO's Mambo Kings. He wrote and performed a classical trumpet concerto that he recorded with the London Symphony Orchestra. His 2018 album Ultimate Duets features collaborations with Pharrell Williams and Ariana Grande. He can do it all. Tickets are on sale.