For 27 years, Kansas City photographer Deanna Dikeman casually snapped photographs as she waved goodbye and drove away from visiting her parents at their home in Sioux City, Iowa. What started off as a lark gradually became a heartfelt parting ritual. The culmination of Dikeman's photos were unveiled earlier this year as a series entitled "Leaving and Waving."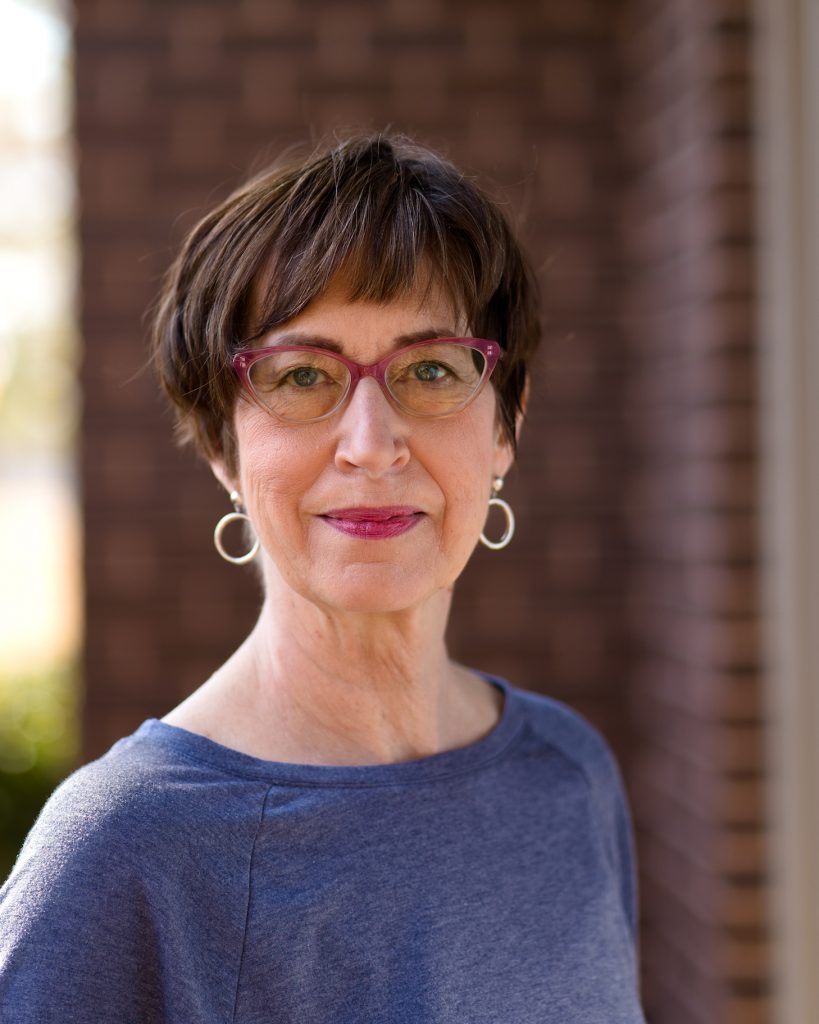 We caught up with Dikeman to find out more about the collection, her newfound fame and the unexpected narrative she created about "family, aging, and the sorrow of saying goodbye."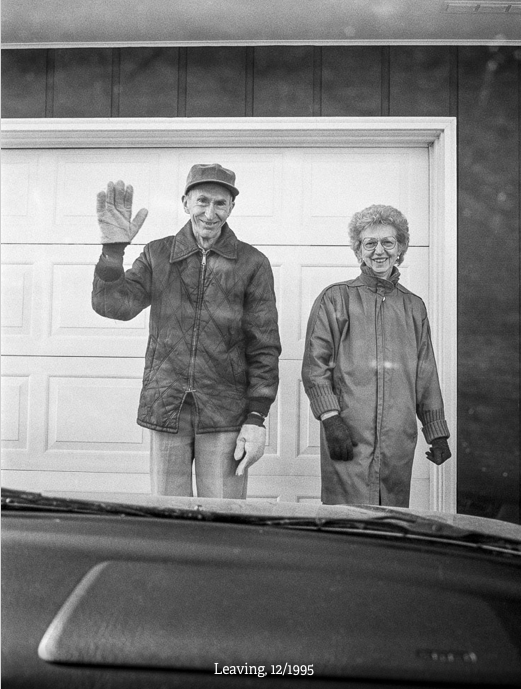 First up, give me a little backstory on yourself, please.
"I grew up in Sioux City, Iowa, USA. My family was pretty ordinary: my dad worked for a soybean processing plant, and my mother was a homemaker for many years. She later worked as a secretary when I was in high school. I have one sister and grew up with many aunts and uncles and cousins who lived nearby.
I didn't study photography in school. I studied biology, then got an M.S. in management. I moved to Kansas City where I had a corporate job. But I had always liked art classes and photography, and I bought a 35mm Minolta as soon as I could afford it. I wasn't happy working in the business world, but I didn't know what else to do. So I signed up for a photography class at Johnson County Community College. I became completely enthralled with photography during that class. I kept going with other classes and worked as an assistant to a commercial photographer. Soon I started exhibiting my work in Kansas City, and I received much encouragement to continue.
I didn't set out to make this project. I only found it when I sorted through my notebooks full of negatives. These leaving photos were part of the larger project of photographing my parents whenever I spent time with them on visits to Iowa. I took photos of gardening, barbecues, kitchen chores, and such. I hadn't lived in my hometown since I left for college, so visits were important. I started the photographs in 1990, when they sold my childhood home and moved to a new house. I was sad to realize that I had not taken pictures of that home–I had been looking for pictures elsewhere. I decided then to take more photographs of the moments that mattered to me."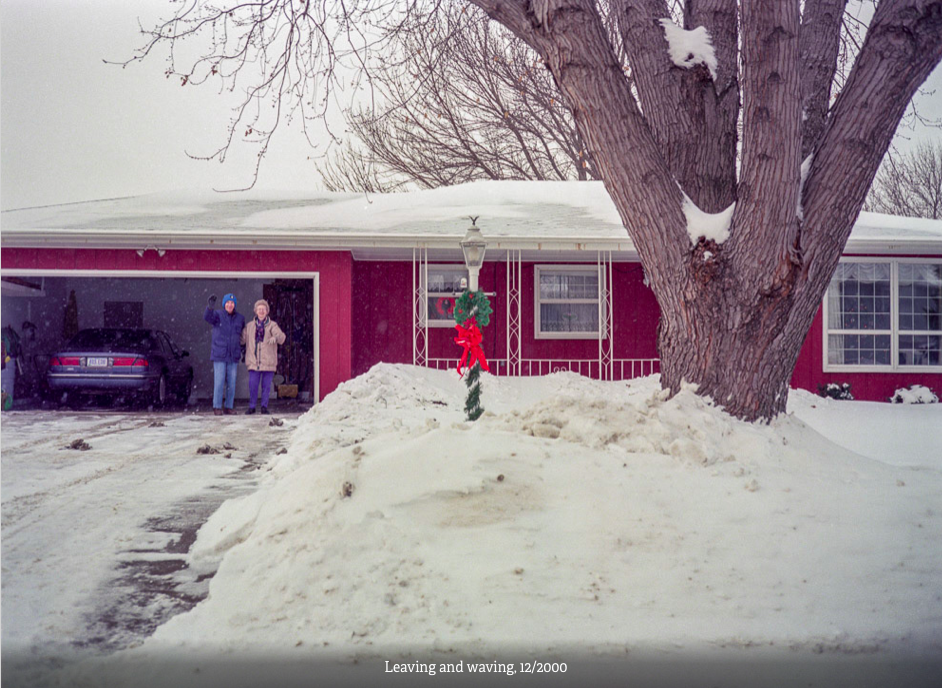 The New Yorker article on your photo series has been shared about a bazillion times. Why do you think your "Leaving and Waving" compilation is so powerful?
"My family photos weren't an art project at first. They were just for my memories. It was only when I showed the work to others that I got the encouragement to present my family photographs to the art world. Sometimes you never realize what you have when it is close to you. I understood that the leaving pictures were telling a story, so I kept going with the photos with just my mom waving (sometimes with Aunt Margee or Uncle Leo). I knew that eventually I would have an empty driveway and one last photo to take."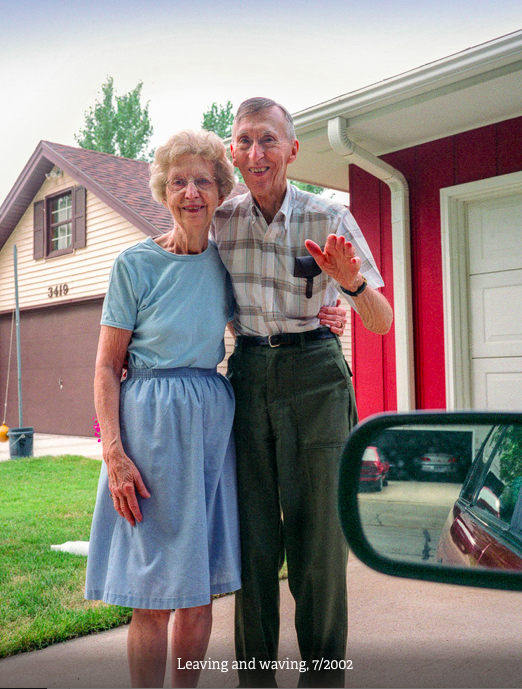 What has response been since the article was unleashed?
"Well, I have been amazed at the deluge of interest in this. I am getting emails and social media messages from strangers with notes about how they cried when they saw the photos, how this reminds them of their parents or grandparents, how they have lost some of these folks, how much they miss them, how they wish they had one last photograph of their mom or dad waving to them, how they wave to their own children, and how they will call or visit or photograph someone soon. They have shared photos and videos of dear ones with me. Why? Well, I am going to guess that, as I experienced, when you lose something and you realize that you don't even have a photograph of it, you feel regret. And regret is a powerful kind of sorrow. We all eventually lose our family elders. One photographer friend wrote to me of his parents, that 'every goodbye felt like a fading.' Perhaps my photographs show that fading away?"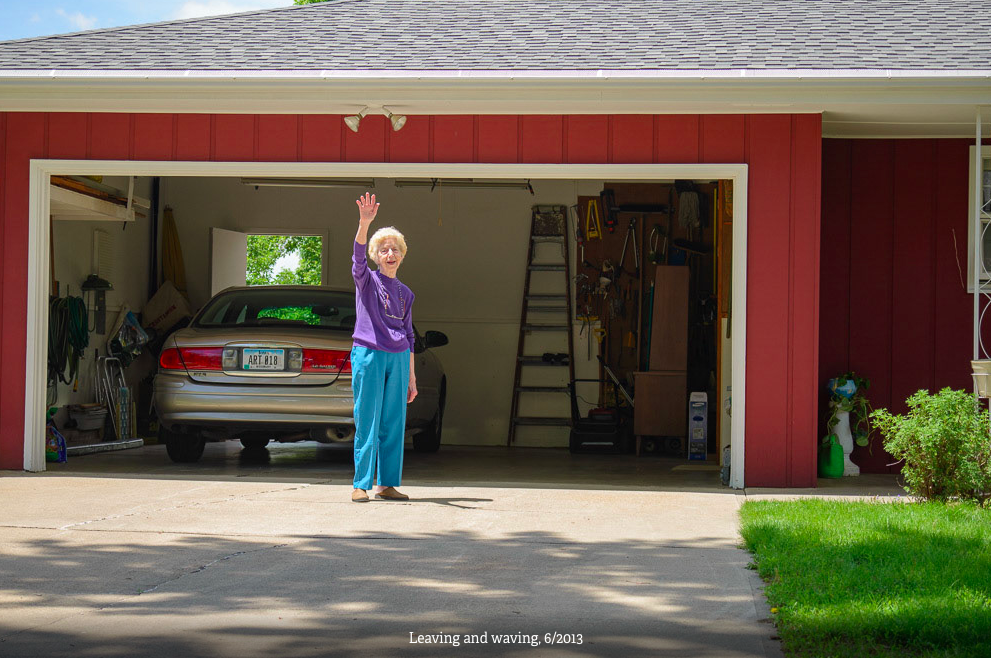 Kansas City holds a special place in your heart, yes? Tell me more.
"Oh yes, Kansas City does hold a special place in my heart. It was where I got my start in photography and where I became an artist. KC nurtured me, supported me, and helped me develop. KC art organizations gave me a Charlotte Street Foundation Fellowship, brought in visiting curators to provide feedback to local artists, and nominated me for a United States Artists Fellowship, which I was awarded in 2008. I feel that I am a homegrown, hometown artist, and I'm proud to be part of Kansas City."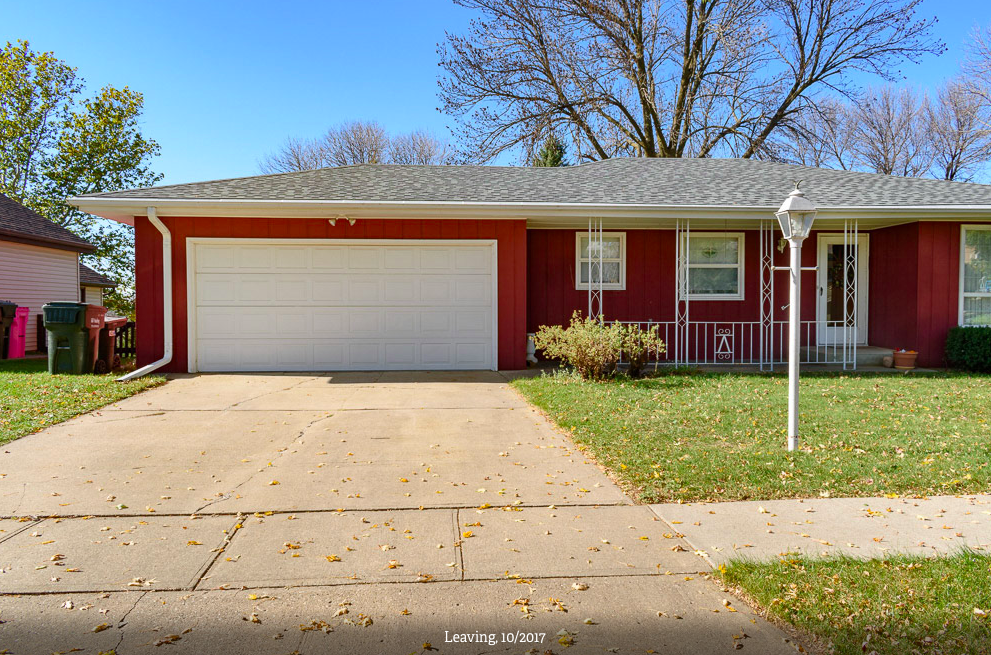 At the end of the day, what would you like people to know about your work?
"I am fascinated with every day, ordinary stuff. It's magical and we often don't realize it. That's what my art is about."
—Interview minimally edited for content and clarity