Kansas artist Stephanie Lanter is both a maker and educator. Her pieces run the gamut from clay, drawing, and fiber to mixed media and words. With 20 years of creativity under her artist's apron, she's thrilled to be currently featured at Cerbera Gallery in the Crossroads through November. It's a new solo show of porcelain sculpture entitled Slippery.
Besides having her work exhibited around the world, Lanter has given numerous lectures and workshops and written for multiple journals. She just began a new job as an assistant professor of ceramics at the University of Hartford Art School in Connecticut, after teaching at Emporia State, Washburn, and Wichita State Universities for the last 15 years. (Fun fact: She does not recommend moving across the country during a pandemic.)
We caught up with the renaissance woman to find out five things you don't know about her.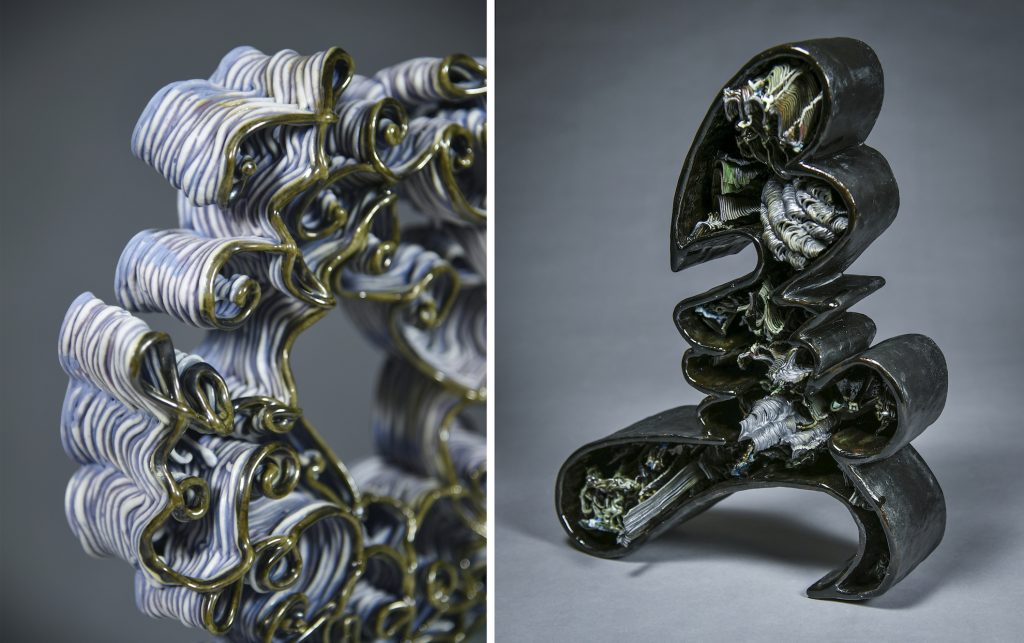 5) I have two sculptures based on the same conjunction.
"Can you see it? Both on view now at Cerbera Gallery—and they investigate the word "And" and the ampersand symbol. I am fascinated by the fact that words are vessels, containers through which we give and receive; devices of both connection and division. Language is so slippery—evolving by the minute—and my work tries to embody that viscosity. In a virtual world, I aim for the visceral."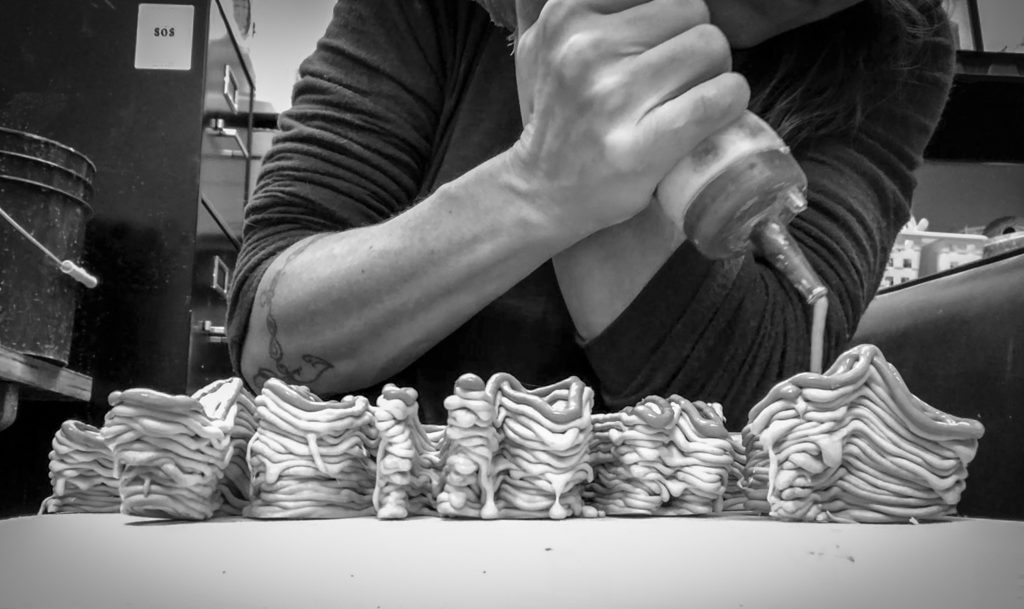 4) I am a human 3D printer.
"Though unlike robots, my arms and hands mess up quite a bit as I 'slip-trail' with liquid porcelain to construct my work. I should have gone to school for cake decorating! Using this meditative (and admittedly obsessive) analog process feels right for my handwritten musings on terms, states, and often what is unsaid. It allows me to slowly 'read between the lines.'"

3) I rode my first century—a hundred-mile bike ride—after 40.
"Living in Emporia gave me the cycling bug big time. Mile after stunning Flint Hills mile, the people and purpose behind events like the DK seduced me and gave balance, strength, and joy to my career-loaded life. Riding my bike helps me wrestle with the epistemological crisis we are in (!!!)—and come up with pieces like this depiction of the phrase 'Truthology.'"

2) I come from a line of accomplished, progressive, and amazingly resilient women.
"Pictured here in a 1973 Kansas City Star article, my grandmother, Anne Perkins, was the first female to be elected Chairman of the Johnson County Democratic Central Committee. She refused to be photographed in the kitchen as the journalist wanted, wanting to be depicted as a political organizer and pragmatist rather than as a housewife. She passed the LSAT while pregnant with her 7th child.
Her mother, Margorie McQuilken Mitchell, born in 1900, earned her bachelor's degree from the University of Missouri and became a teacher. Travelling back from Canada with her newspaper-editor husband, she sewed socks around her girdle to keep the liquor bottles from clinking and incriminating her smuggling during Prohibition."

1) During Covid lockdown, I made 43 Founders' Signature Tiles for Hotel Kansas City.
"I was super fortunate to be able to complete this commemorative commission curated by NineDot Arts via studio access at Emporia State University. Each slip cast, hand-made tile bears the slip-trailed name of a KC Club founder, and this installation was just recently installed in downtown Kansas City. Try and check it out!"