Sponsored content:

Some artists gravitate towards paint. Others use clay as their medium. Elias Sime's work, however, is a bit more transformative. The Ethiopian-born artist utilizes items like discarded wiring and recycled computer components to assemble his brightly colored tableaux and sculptural assemblages. Often using mechanisms as his muse, Sime's abstract works are both hyper-detailed and deeply rooted in modes of Ethiopian art.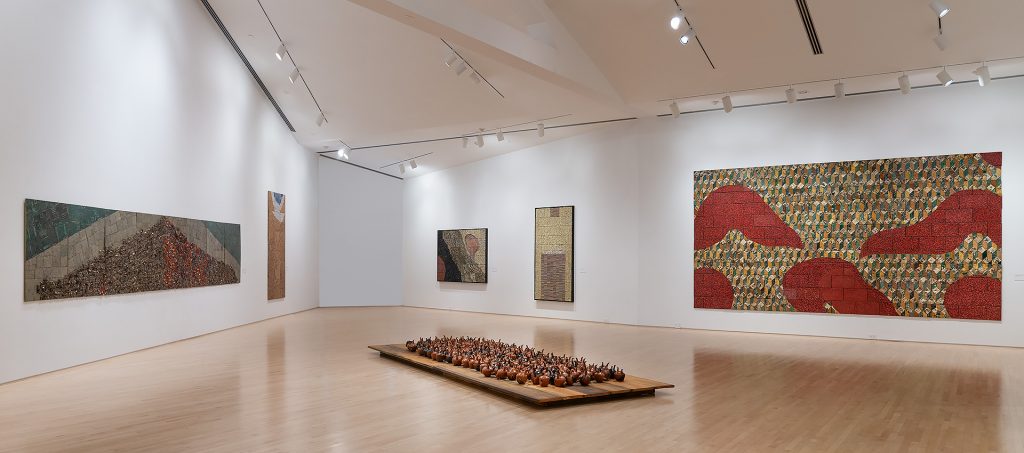 Over two dozen of Sime's elaborate works are now on view in the exhibition Elias Sime: Tightrope at Kemper Museum of Contemporary Art through January 31st, 2021. The show is a delightfully varied mix of Sime's work from the past decade that showcase the haphazard balance between technological advancement and its detrimental impact on the global environment. "One of the striking things I immediately noticed about Elias Sime's work was how much they resemble landscapes––and then was quickly amazed at how these beautiful expanses were achieved by intricate patterns of e-waste material," says Erin Dziedzic, director of curatorial affairs at Kemper Museum of Contemporary Art. "Realizing these complex abstract works resemble an array of landscapes which have been part of his life really intrigued me in new ways."

While the Museum remains temporarily closed, guests are encouraged to take a virtual tour of Sime's work, which includes expansive gallery views alongside detailed close-ups. From far away, his abstract paintings meld geometrically inclined patterns with a kaleidoscope of colors—everything from subdued earth tones to neon hues.

Up close, however, these mammoth pieces are painstakingly arranged—a rainbow assortment of finely braided electrical wires and pieces from electrical motherboards will catch museumgoers discerning eye. "A majority of works in the Tightrope exhibition are electronic waste components sent primarily from China, France, the United States, and other parts of Africa to Ethiopia," says Dziedzic. Sime salvages and repurposes these pieces to explore how devices intended to connect the free world have instead dulled our interactions. It's quite the contradiction—technology has helped foster progress but in turn has negatively impacted the environment with massive amounts of e-waste. The collection's name, Tightrope, refers to how precarious that balance can be, she says.
Sime graduated from the Alle School of Fine Arts and Design at Addis Ababa University in Ethiopia. He got his start designing creative collages made of plastic before eventually evolving in to deconstructing man-made machines. Eventually, Sime realized by exposing their inner workings and internal dynamics, he could channel a completely new kind of emerging energy.

Sime established relationships with vendors at Addis Mercato, one of the largest open-air markets in Africa, who helped him source specific materials and colors used in his works. "Given that these materials are considered waste and make their way to Ethiopia, Sime's works also beg the question of what types of communication people have, miscommunications, and the result of those efforts," adds Dziedzic.

Dziedzic says two works in particular speak to her. Splash of a Pebble in Muddy Water (2006) is part of the stitched canvas works leading into his most recognized works made of computer components. "This beautiful golden monochromatic painting is made entirely of short, consistent stitches of thread on canvas formed into a swirling pattern, which keeps your eye moving continuously around the work," she says. "Like its title, you can almost imagine the ripples from a pebble thrown into muddy water."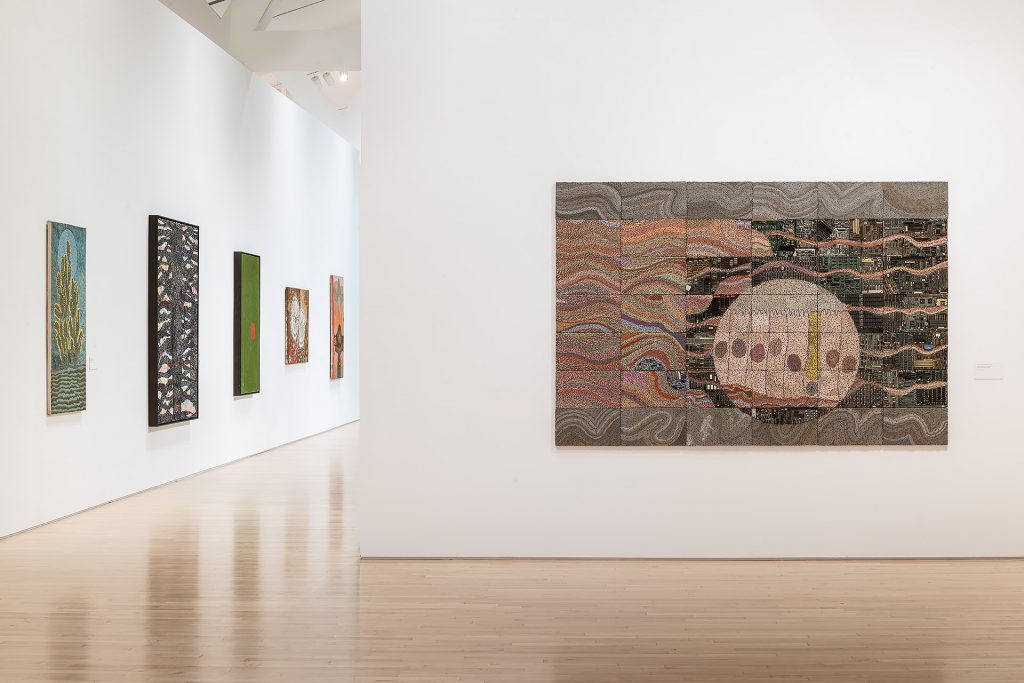 Another stunning work in the exhibition is Tightrope: On the Edge (2016). "It is a massive eight panel work resembling what appears to look like the edge of where a bustling city meets a green landscape," says Dziedzic. "Sime's adept use of materials allow him to transform millions of tiny computer components into vast landscapes. These areas of concentration, demarcation, and transitioning created abstractly remind us of the tensions, locales, and distance that still hamper communication via technology."
With the Museum temporarily closed because of COVID, docents are offering free online programs focused on Sime's current exhibition as well as virtual tours of select works from the Museum's Permanent Collection. Zoom gallery tours of Elias Sime: Tightrope lead groups of two to ten people through our online gallery experience, with the warm welcome and special insight of a trained docent.
To explore the exhibition, click here.
Images: "Elias Sime: Tightrope" (installation view), 2020. Kemper Museum of Contemporary Art, Kansas City, Missouri. © Elias Sime, courtesy of the artist and James Cohan, New York. Photos: E. G. Schempf, 2019