Chico Sierra isn't Hispanic. The artist and teacher, who originally hails from El Paso, Texas, has made a name for himself around town with large-scale murals and visual art pieces, many of which incorporate iconic Latinx imagery. But if asked, he would call himself Chicano, a more politically charged identity that rejects the colonialism inherent in the term 'Hispanic.' 
That political stance greatly influences his art, which can be seen all over town. In Kansas City spoke with Sierra about what drives him and how his heritage plays into his art. 
What are some of your biggest artistic influences?
Part of my work is about indigenous creation. I'm not spiritual, but my work uses a lot of spiritual iconographies, whether it be indigenous spirituality from where I'm from, or Buddhist spirituality, or even Islamic art based on geometry and mathematics. I also like to incorporate ideas about social justice and our ideas about faith. 
Which artists have directly inspired your work?
I take inspiration from people like Jean-Michel Basquiat, Paul Kandinsky, Mark Rothko, and Picasso. But I'm also influenced by artists that have been erased from history because of colonialism. Some amazing artists existed at the same time as Michaelangelo or Leonardo di Vinci, but we'll never know because their identities were destroyed by colonialism. 
It's not just Latino art, but indigenous arts in the Americas, Africa, the Middle East, Australia–all those stories just stopped at a certain point. I'm pulling from pre-Columbian and pre-colonial ideas.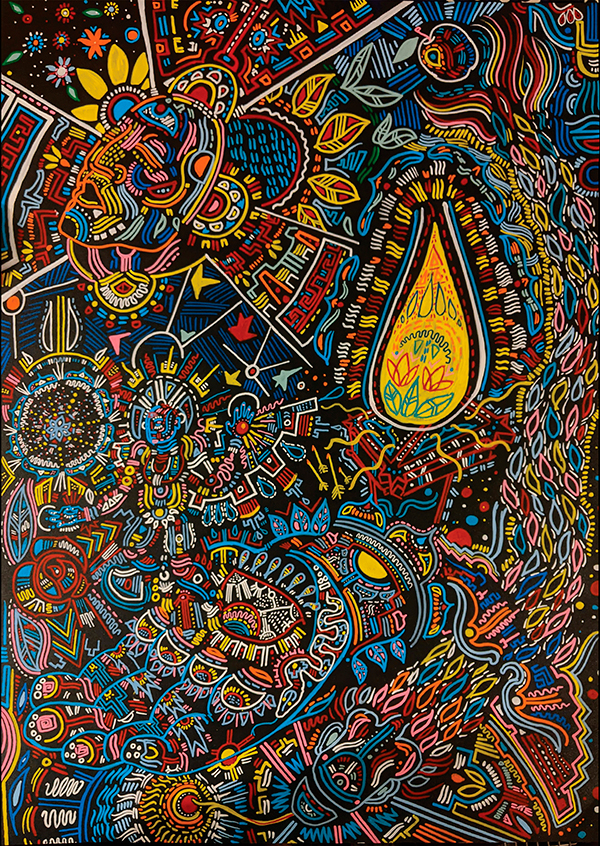 Where did you hone your skills?
I don't have a traditional art school background. When I was in El Paso, I was really into graffiti art. Then I did a two-year apprenticeship with a tattoo artist. I didn't become a tattoo artist, but I learned so much from those guys. It was fundamental to my education–they taught me how to pull a perfect line and draw on the go. 
Where can we see your work?
I have always had a good work ethic, so I'm always producing something new. I teach classes through Youth Ambassadors, which is fun since I didn't have a traditional art education myself. I have a show at Garcia Squared Gallery called The Burden of Knowing Everything, which is a sort of tongue-in-cheek title. That runs throughout October. I also have work showing in the Evocations show at the Nerman Museum of Contemporary Art, which runs through March 23, 2022. And I always have something new in the works. 
See more of Sierra's work at chicosierra.com or follow him on Instagram at @chicosierra.