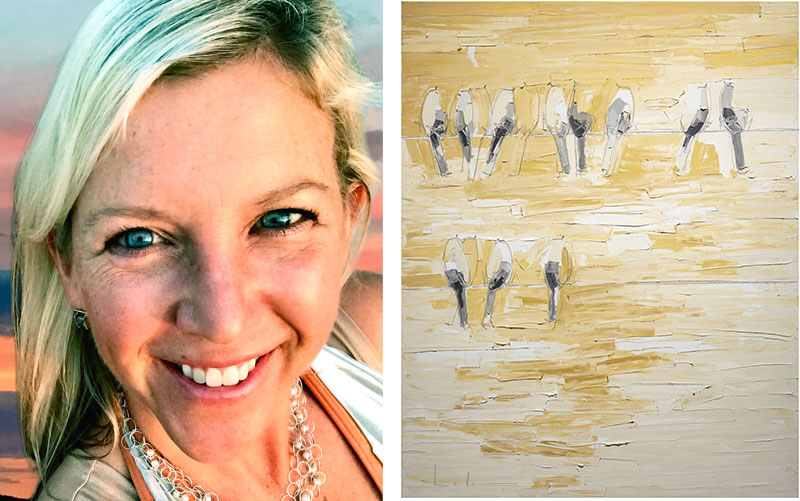 Lisa Lala's iconic birds-on-a-wire wing their way through collections in Kansas City and beyond. Many artists go on to other subjects, but Lala continues to draw inspiration from these images. "In the birds I am thinking about people and how we all interact and what we are drawing from each other," she explains. "But also in each painting I am meditating/journaling/exploring ideas. I remember when I thought that painting the Birds on a Wire pieces would have a start and an ending like other series—but instead they have became a part of how I live," says Lala.
"In each painting I am exploring what I am thinking about and listening to that day, which is why sometimes they end up with such crazy titles," she adds.
Raised in Manhattan, Kansas, with an art degree from The University of Kansas, Lala lives and works at Lake Lotawana.
You grew up in an artistic family—your father a sculptor, your mother a watercolorist—who both also traveled the world as medical volunteers, taking you with them. How has this unique upbringing shaped your world view?
I am so grateful for getting to grow up in a home with a studio area for each of my parents. I had my own little desk full of art supplies in my mother's area, and I spent hours working there regularly. Our home was full of art, artists, and other interesting people. My folks invited such international people to dinner (often foreign students that were studying at the university), so it seemed like I was getting a global education even when we were at home. I guess it gave me what travel brings to so many of us, a love of people and connecting with them.
Why paint with a palette knife?
It is the perfect tool for me. I painted for years with a brush, and my colors were always getting muddy and mixed in a way I didn't like, so I had to stop and clean the brushes while I was working, when I wanted to be painting. When I tried a palette knife and felt how immediate it was, how I could just wipe it off in a second to switch to whatever paint I wanted—I was no longer held back, it was like I was flying.
What are you working on now?
This last year has been a really productive year for me. In a regular year I am pulled so many different directions, from travel out of the country, to other cities, to the myriad of wonderful art events here in our city. This year all of that moving around got traded instead for really peaceful days of working in the studio, or the garden, or kayaking. Life slowed down, but at the same time my studio time increased. I had my most productive year ever, and then all those paintings found their people, who were also probably staying at home. Mostly I painted the bird paintings, but I also did several from my Water Glass Series, which all went to Blue Gallery. I checked in on them only a few weeks later and they had all found homes—it feels really great to be so supported by my city.
How does your studio at Lake Lotawana inspire you?
I have loved every place I lived, but Lake Lotawana is the place for me. We hand-built our home here on this cliff for the gorgeous view, but it turned out the community is even more special. It is a mix of families that go back generations, with newer people like us (we have only been here 20 years). It is a small town right next to a big city. And I do need lots of outdoor time to feel best. I keep my kayak sitting on the dock so I can just slide it in. In the winter I can kayak next to the ice, I just dress for the weather. Often I just float out there on the lake, going nowhere, just thinking. From my studio I can look out at the lake, other boaters, sailors, friends, children, the sky, the seasons. It all just fills me up.