Whether it's a painting, photograph, or hand-painted ceramic tchotchke from your Aunt Vera, most everyone has one piece of art that truly resonates with them. We're putting out the call to ask, "What's your favorite piece of art?"
Next up, Consuelo Cruz, the marketing and community engagement manager for Belger Cartage Service, Inc. and Belger Arts. Cruz says she believes deeply in the value of the arts and education in bridging cultures and connecting communities.
With Bachelor of Science and Bachelor of Arts degrees from Rockhurst University, and a Master of Arts degree from UMKC, she's served on the boards of many non-profits in Kansas City. Cruz chose a 2001 piece by the artist Nick Bubash. The five-color lithograph entitled Tattooed Guy (from The Entertainers) is colorfully eclectic and surreal.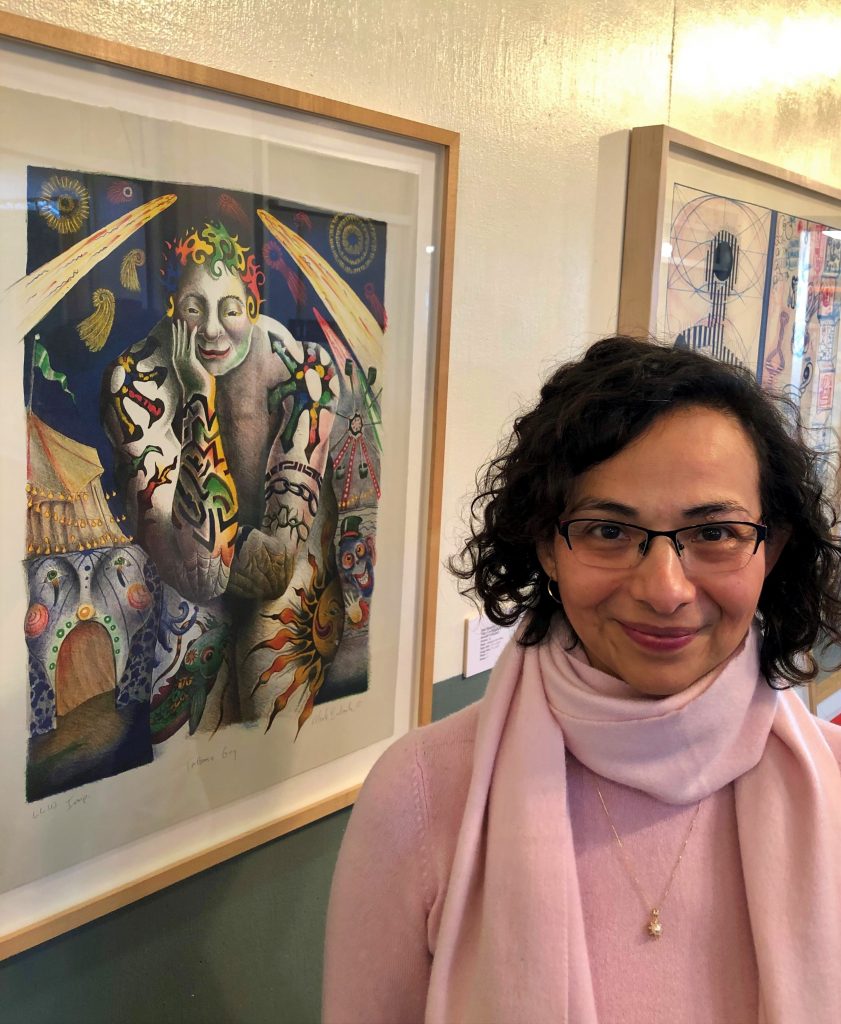 Is there a backstory to the artwork?
With so much art in the city, I have many favorites. A particular one is a color lithograph I purchased several years ago from The Lawrence Lithography Workshop, at Belger Crane Yard Studios.
Tattooed Guy is a self-portrait by artist Nick Bubash. It's one of a series of six prints titled The Entertainers, that depicts circus performers. The series was published by The Lawrence Lithography Workshop and printed by its founder and master printer Mike Sims, one of the few master printers in the Midwest.
What's the appeal of the artwork to you?
Lithography is an intricate and collaborative printmaking process that involves the artist and master printer. Because multiple, but limited editions are printed of an artist's drawing or design, a lithograph is usually more affordable than other two-dimensional work. I was excited to learn that the Library of Congress recently established a partial archive of original prints produced by The Lawrence Lithography Workshop—including an edition of Tattooed Guy.
Describe the artwork's nuances.
The gentle giant expression of Tattooed Guy, and the vibrant world that swirls around him attracted me to the work. I love Nick Bubash's world view and the fact that he's a sculptor and tattoo artist, who studied art, philosophy, and textile design. What's especially meaningful is that The Lawrence Lithography Workshop is located in Belger Crane Yard Studios—a unique arts complex that thrives with creative synergies and collaborations, and provides studio and exhibition space for artists. Belger Crane Yard Studios also provides the community access to artists, educational programs, and the opportunity to purchase or collect art even if you have a limited budget.