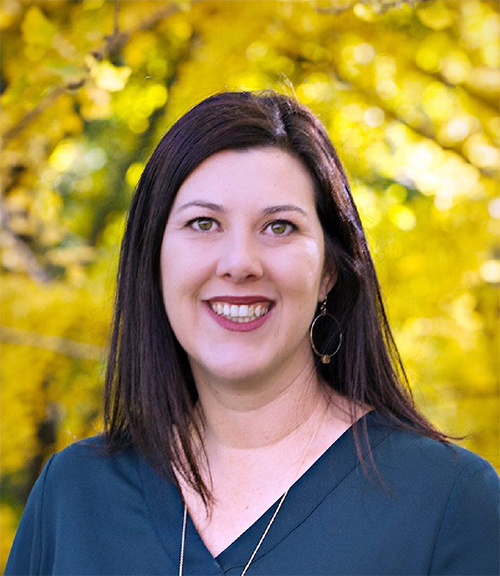 After longtime theater impresario Mark Edelman retired this year from the Theatre League, Amy Hamm stepped up to become the executive director of its sister organization The American Theatre Guild. This not-for-profit performing arts entity, based in Kansas City, brings live theater, not only to our hometown but many other cities throughout the country. The guild also does education outreach to high school drama departments and arranges special matinee performances so students can experience live theater, then ask questions of the actors and stage crew afterwards.
The power of live musical theater is perhaps no better experienced than with the classic Evita, with music by Andrew Lloyd Webber and words by Tim Rice, which debuted in London in 1978. The 1950s story of Eva Peron, wife of Argentinian strongman Juan Peron, might seem an unusual subject for musical theater. But Eva Peron rose from a poor background to become a cultural icon, a childless blonde Madonna of everyday Argentinians. Don't Cry for Me, Argentina still packs an emotional wallop, 40 years later. Evita runs from February 5 through 10 at the Kauffman Center for the Performing Arts.
INKC: Tell us a little about yourself. Did you grow up loving theater?
Hamm: I grew up outside of Wichita without much access to professional theater. I was fortunate to have family and friends with an interest in musicals who exposed me to the performing arts at a young age. As a student at the University of Kansas, I balanced my time between school, internships in event marketing (including a marketing internship at the Lied Center), Kansas basketball, and as a senior, attended the Broadway in Kansas City series as a season member. An entry-level marketing position with Theatre League was my first job out of college and I've never left! I have continued to expand my role as the executive director for The American Theatre Guild.
INKC: What is it about live theater—and musicals in general—that really moves an audience?
Hamm: Our mission at The American Theatre Guild is to share the performing arts with students from all backgrounds. I love that our audiences can leave the theater feeling empowered and inspired despite their ethnicity, age, or gender. In times when tolerance and acceptance seem to be in limbo, it's motivating to be able to present a product onstage that educates and entertains while sharing a message of inclusivity.
INKC: What does the American Theatre Guild do to make live theater and musicals happen, not only in KC, but in cities across the country? What does it take to book and put on performances in so many different cities?
Hamm: Our greatest asset is our staff. We have a wonderful—and fairly small—staff of fewer than 30 that work tirelessly to present and promote our seasons in 11 markets across the country. The process of booking a season can start as far out as four or five years, but most of the work is done 18 to 24 months in advance. We are currently in the middle of making offers for shows in all of our markets for the 2019-2020 season—when our 2018-2019 seasons haven't or have barely begun! We work with booking agents representing the producers. We find dates that work and we negotiate the terms. After our seasons are set, our amazing marketing team gets to work selling season tickets then transitioning to single tickets later in the summer.
INKC: What is it about the rags-to-riches-to-handkerchief story of Evita that resonates with theater-goers of yet another generation? What will be some of the highlights in this production?
Hamm: I'd like to quote Mark Edelman, the show's producer, for this question: "Any story about political power and the influence a lover can have over a world leader remains relevant today. The Perons' rise to fame from "the voice of the people" to autocrats who bankrupted their wealthy country continues to resonate in the 21st century.
This production combines state-of-the-art video technology with the classic Tim Rice-Andrew Lloyd Webber musical, featuring for the first time on tour the Academy Award-winning song You Must Love Me, which was added by the authors for Madonna."