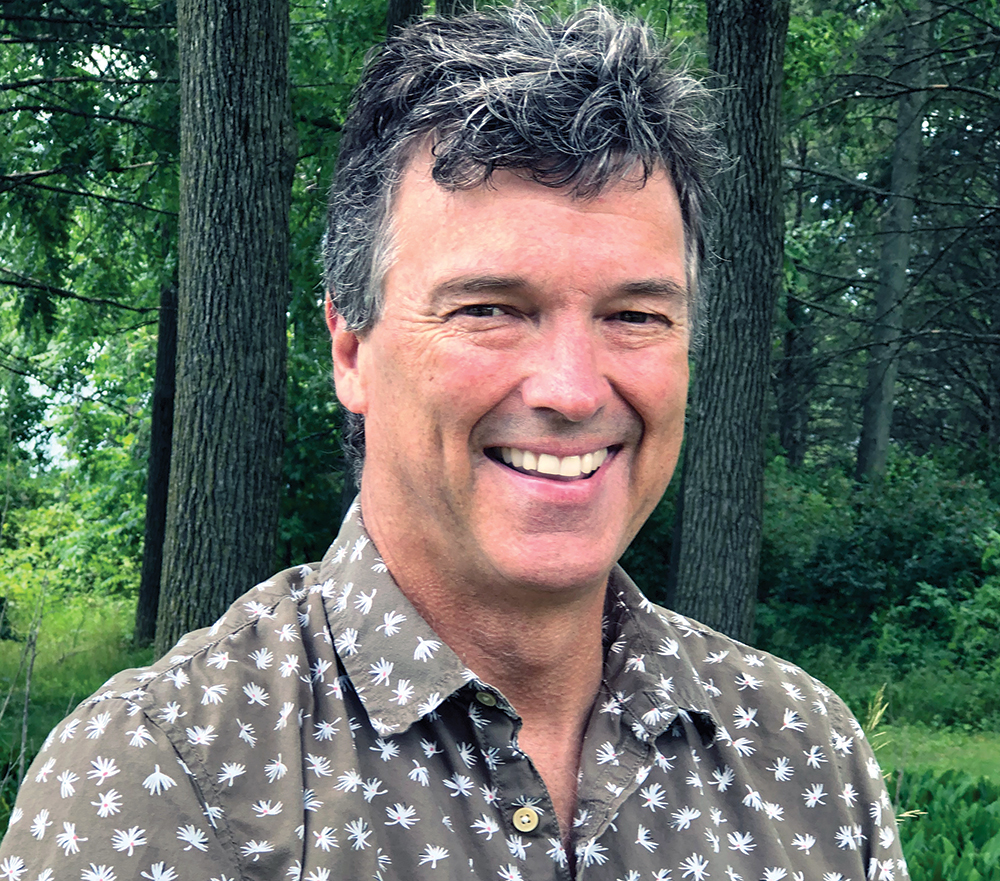 In Kansas City caught up with Kevin Sink, a nature photographer whose work combines art, interior design, and emotional therapy. His photographs hang on the walls of cancer centers, hospitals, and doctors' offices all over the country, where you can feel like you're in the middle of a forest rather than a waiting room.
Breathe. Just breathe.
Sink's work is available through Henry Domke Fine Art, founded by a former family health physician in 2003. "We specialize in making artwork for healthcare institutions, based on evidence-based design principles," says Sink. "Essentially, it's nature photography that is calming, uplifting, and stress relieving for patients, family, and staff."
Tell us a little about yourself and how you got interested in nature photography.
I grew up in Prairie Village and spent most of my time outside roaming the neighborhoods. I was always getting into trouble for wandering too far and not coming home on time! My interest in nature and photography grew directly from my experiences on my grandparents' farm in south Johnson County.  I spent many days hiking the rangeland, letting the sounds, smells, and sights form an indelible foundation for my lifelong pursuit to make nature relevant and of great importance to people.
I went to Pembroke Hill and first was introduced to photography in a mini course there taught by Mrs. Nancy Lewis… a very patient and encouraging teacher. My family took vacations, almost always to Sanibel and Captiva Islands in Florida. It was here that I became interested in bird watching at the marvelous Ding Darling National Wildlife Refuge. My parents got me a very inexpensive camera and a $63 telephoto lens. Combining photography and birding became my passion. I did a science-fair project that was a collection of my bird photographs with notes on each species' behavior, distribution, etc. I was fortunate to receive several awards, including one from Hallmark, which included a tour of their photography department. All that was a big boost to my confidence.
A love of science steered me into pre-med at KU, and I ended up getting an M.A. in Physiology and Cell Biology before applying to med school. On the way to take the entrance exam I was driving on K-10 and saw a Great Horned Owl on a rocky outcrop and it seemed to be staring right at me as I passed. Somehow that owl made me think, "I don't want to spend the rest of my life indoors in a hospital!" Instead, I started my photography business 28 years ago.
You've said, "I'm always thinking of how my photographs can bring the contentment of beautiful places into high-stress environments." How did you first blend art and emotional therapy?
My dad was a very fine painter, as a hobby, and he had an impressive library of books on master painters. Every time I would get home with a roll of film he would critique the shots and bring down a book of Degas, Cézanne, or someone and show me how they approached scene rendering. So I grew up totally enamored with art and a great respect for painters and the necessary sensitivity they must have for the scenes they portray. I've worked very hard to bring those compositional and emotional lessons to bear on my work, and the process itself is quite calming. Just being out scouting for scenes and practicing a mindful approach and listening to what the landscape is saying is a great stress reducer.
What are you working on now?
I continue to travel all over the U.S. and abroad. I just got back from a three-week shoot in England photographing gardens, and will be shooting in Wisconsin and then for two months in Montana, near Glacier National Park. Conceptually, I'm trying to work on a "less is more" idea. With our lives so complicated, I think people yearn for simplicity. I've started a collection of scenes that are very compelling, yet simplistic in content, inspired by the color-field painters like Frankenthaler, Diebenkorn, and an exhibit by Sean Scully I saw in the National Gallery in London.
What is it about Kansas City—full of beautiful places, but "scenic" is not the first word that comes to mind—that nurtures your artistic self?
Ever since I can remember, I've visited the Nelson-Atkins Museum. To me it's the crown jewel of our city and we should be immensely proud of it. Not only does it have incredible art and superb direction by Julián Zugazagoitia, but the strong philanthropic support by the community speaks volumes about the character of our city.