Since the late 1950s, Claude Monet's mammoth Water Lilies painting has held pride of place as a centerpiece within the Nelson-Atkins Museum of Art's Bloch Galleries.
Where it was evenly lit.
Borrrrrrring.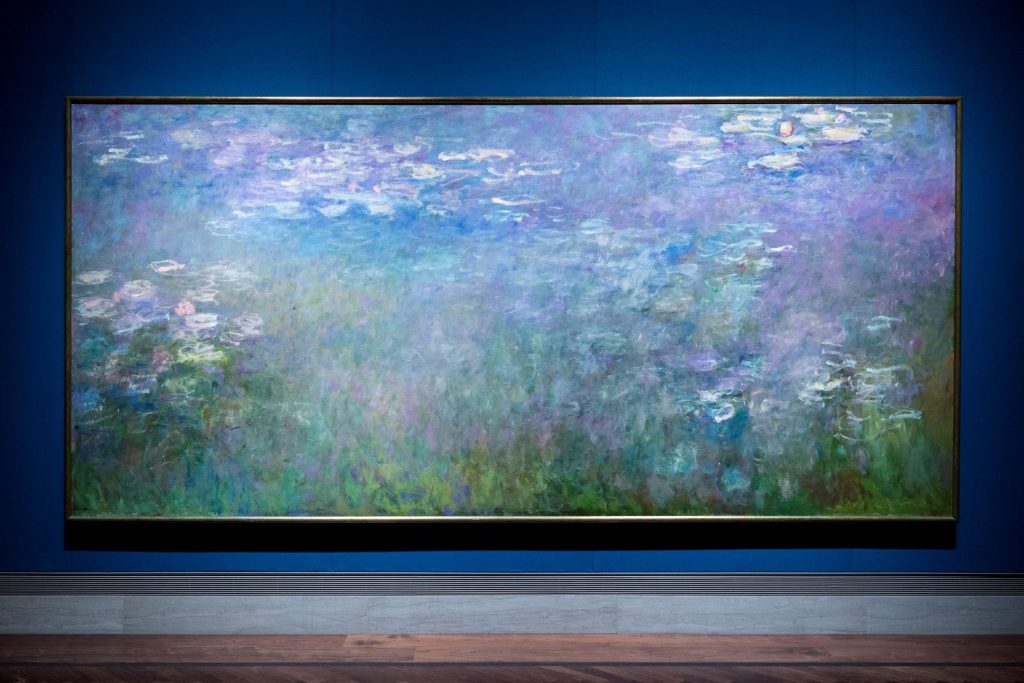 So, during last year's pandemic when the Nelson was closed, Aimee Marcereau DeGalan, the senior curator European arts, got a bit of inspiration. Her team configured a dedicated gallery for the painting that takes guests on a surreal sunrise-sunset journey of the painting. The exhibition Monet Water Lilies: From Dawn to Dusk is now accompanied by a ten-minute light program that emulates the rise and fall of daylight and plays every quarter-hour. Visitors will also hear provincial nature sounds reminiscent of what Monet heard while painting in his expansive garden.
"Monet—among many others—was painting against the backdrop of World War I. His son and stepson were both marching off to the front lines," says Marcereau DeGalan. "War was only 50 kilometers from Monet's doorstep in Giverny. He's hearing the bombs from the front lines. And, for him, his form of solace was to lose himself in painting."
Marcereau DeGalan says Monet would go out and paint during different times of the day. "And I thought, we have the capability, space, and technology to take the light cycle from dawn to dusk, which is how he was painting," she says. "By featuring it on its own, it slows people down. It makes them connect on a human level as Monet did when he painted that."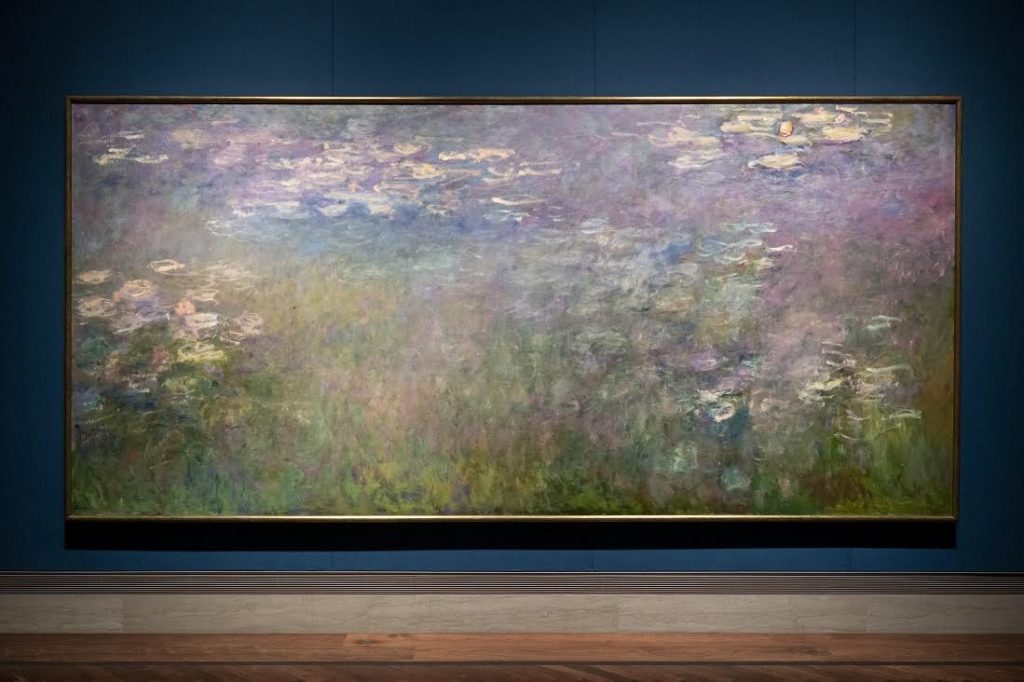 The day we visited many visitors noted as the light ebbs and flows, radiant colors become muted and luminescent textures become overwhelmingly apparent. It's a master class in impressionist painting in a dreamlike, ten-minute time span.
Marcereau DeGalan adds half the battle was finding specific, hyper-localized nature sounds to gently waft through the chamber. "As an art historian, we are nerds," she says with a laugh. "We wanted to create the context of the atmosphere in which the artist painted." Marcereau DeGalan sourced an amateur birding website and was able to geographically pinpoint exactly where in France she wanted to procure sounds. "I found all sorts of different sound recordings at different times of the day and tracked them with the light," she says. "Like songbirds in the morning and owls at night. Some sounds are sourced directly from Giverny, like the frogs on the pond. It was important to me to get that sound right—or as close to all the birds and animals [Monet] would have potentially heard while he was outside painting."
If lines to see to the exhibit are any indication, response has been overwhelmingly positive. "People have a whole new appreciation for the artist, the painting, and how long he took to paint it," she says. "And hopefully they have a deeper connection."
The immersive exhibit will be on display through mid-January 2022.