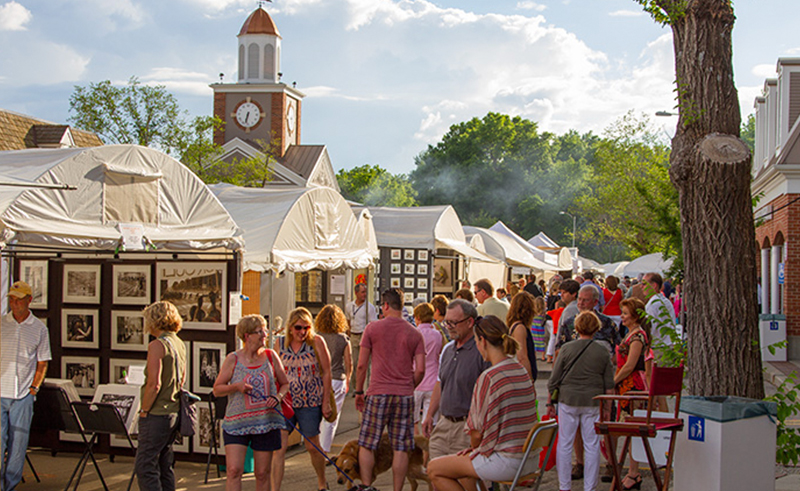 Sponsored Content
After two years of a Prairie Village Art Show shaped hole in our hearts, Kansas City's second oldest art show is back for its 65th year of local and national art, activities, entertainment, and local eats from June 10-12.
"We love having something in Prairie Village where the whole community can come together," says Rachel Fletcher, who's leading the charge of planning the art show. "The community has so much love and support for local artists, shops, and vendors, and I don't think you can say that about all art shows. We're going to have about 100 artists this year, and over 50 percent are returning artists from previous years." 
The annual Prairie Village Art Show ushers in artists from across the country, and this year will be no different. Our advice? Take a look at this year's participating artists and make a list of your must-see artists. You can find a comprehensive list at www.pvartshow.com/artists and a map of where to find them at www.pvartshow.com/map2022.
From Minneapolis artist Layl McDill's whimsical teapots, figurines, and more (booth 27), to Aurora, Colorado, artist Kerrin Pogozelki's exotic leather purses and bags (booth 80), to local Kansas City artist Brad Ultican's detailed drawings, hand-made prints, and photographs of KC landmarks (booth 2), there will be mesmerizing artwork that calls to just about everyone.
Be sure to check out this year's featured artist, Dick Daniels (booth 49), whose bold, colorful, and playful artwork is shaping the theme of the 65th Annual Prairie Village Art Show.
The Kansas City artist is an illustrator, painter, and ceramicist that draws inspiration from the psychedelic era of the 60s. Daniels spent five years as an illustrator for the Kansas City Star and has been designing Hallmark greeting cards since the late 80s.
"The artwork we're featuring from Dick Daniels offers a carnival theme," says Fletcher. "It's very playful and fun and we're bringing that as the overall theme for the entire show. So, we're bringing in all these fun colors and we'll have a big balloon arch over the stage. He's our inspiration for bringing in a bunch of fun color combinations and making the show as artsy as possible."
Fun for the Whole Family
Building on the playful theme from Dick Daniels, this year's art show offers fun to be had for all ages.
"This year we're making the kids area bigger and better with games, balloon artists, face painting, yard games, coloring sheets, and a children's art contest," says Fletcher. 
In the months leading up to the art show, kids ages two to 13 have been submitting their artwork for the contest. All the submissions will be on display in the Kids Village, and the pieces will be judged by the same judges who will be handing out awards to the professional artists at the show.
"We're going to choose winners from four different age groups and award them a prize along with the other artists," says Fletcher. "It's something new we're bringing in, and it's really exciting. I think just seeing the kids' faces when they see their art hung up in the village will be really special. We're getting big stands to put the art on—just like the professional artists have."
After stopping by the Kid's Village, don't forget to visit the main stage. Local performers will be dazzling crowds all weekend long. Here's the performance schedule:
Explore, Shop, and Eat
In between the art and activities, don't forget to enjoy the local eats and shopping.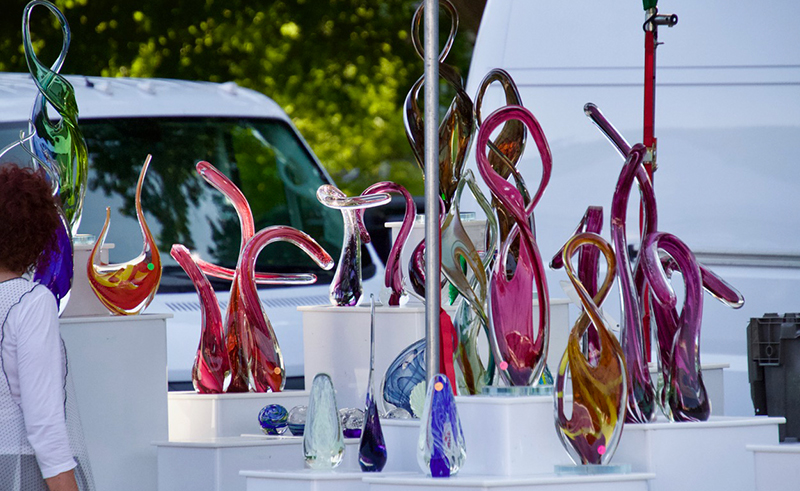 The art fair is the perfect opportunity to sample what The Shops of Prairie Village have to offer. Prairie Village restaurants and sweet shops like Scratch, Caffeterria, Tavern in the Village, Gravity, Minsky's, Chill in the Village, and more, will have booths at the show. Plus, Chris Cakes is hosting a special breakfast on Saturday, June 11, from 8:30-10:30 a.m.
The art show is a great time to discover your next favorite store—Fletcher says many of the shops and boutiques will offer special deals for art fair attendees. Plus, there will be Charlie Hustle, special edition Prairie Village t-shirts you can purchase to show off your PV pride all year long.
Ask Fletcher if she has any advice for making the most out of your time, she'll say the earlier you get to the art show, the better.
"We usually see around 15,000 people in attendance through the weekend, and I think it's going to fill up really fast," says Fletcher. "A lot of the parking will be blocked off, so plan to park in the nearby neighborhoods and walk over. Early is best because that's when the artists will have the most in stock."
The 65th Prairie Village Art Show is sponsored by Platinum Sponsors Advent Health and First Washington Realty, as well as Scratch, Black Fin, Prairie Village Arts Council, Titan, Hen House, KC Landscapes and Pools, Ripple, Lewis Rice, and Jade Alarm.