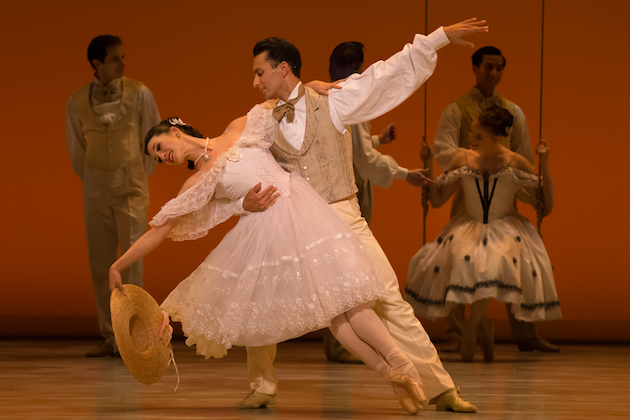 Lady of the Camellias, choreographed by Val Caniparoli, is a tragic love story between a dying courtesan, Marguerite, and her young suitor, Armand (played by Lamin Pereira dos Santos). The "valentine" of this classic tale is carried by Emily Mistretta's expressive and beautiful balletic radiance on stage.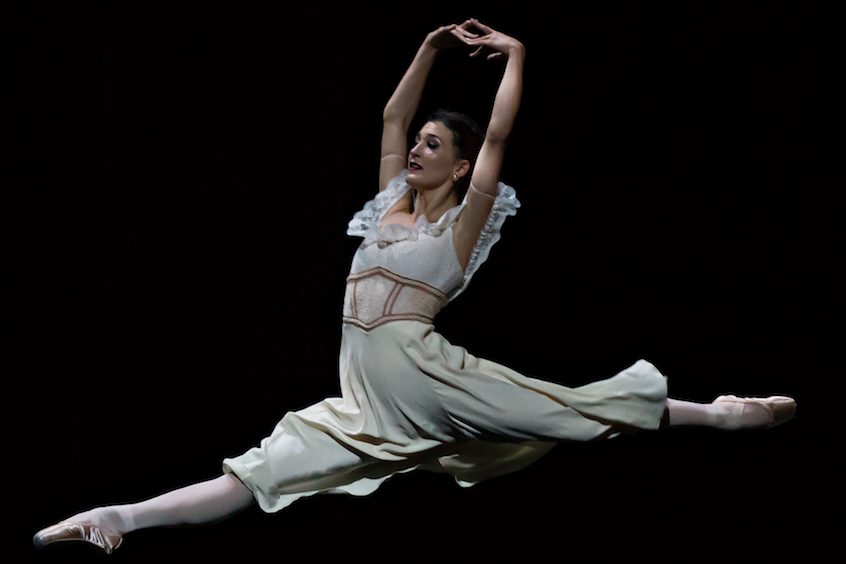 Behind the scenes, Mistretta shares how this storybook ballet is an experience of love for both a first-time leading ballerina and for the audience. "What's so amazing [about this ballet] is that it becomes such an emotional journey each time you go through it," says Mistretta. "[Marguerite] starts off coy as she does with all her suitors, and Armand is already head-over-heels in 'puppy love.' She's mature, she's been around so she thinks it's fun; but throughout their dancing together, she finds herself falling for him. With this beautiful music, it's really dreamy and gentle."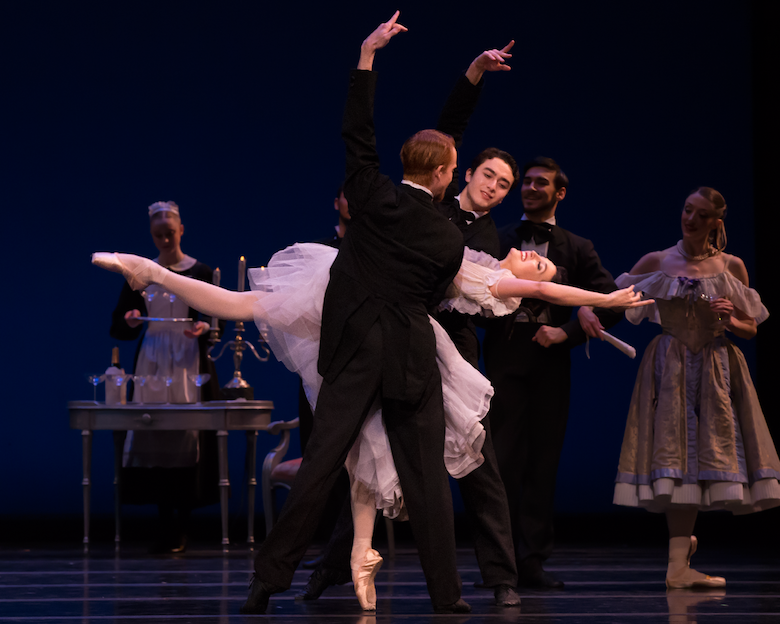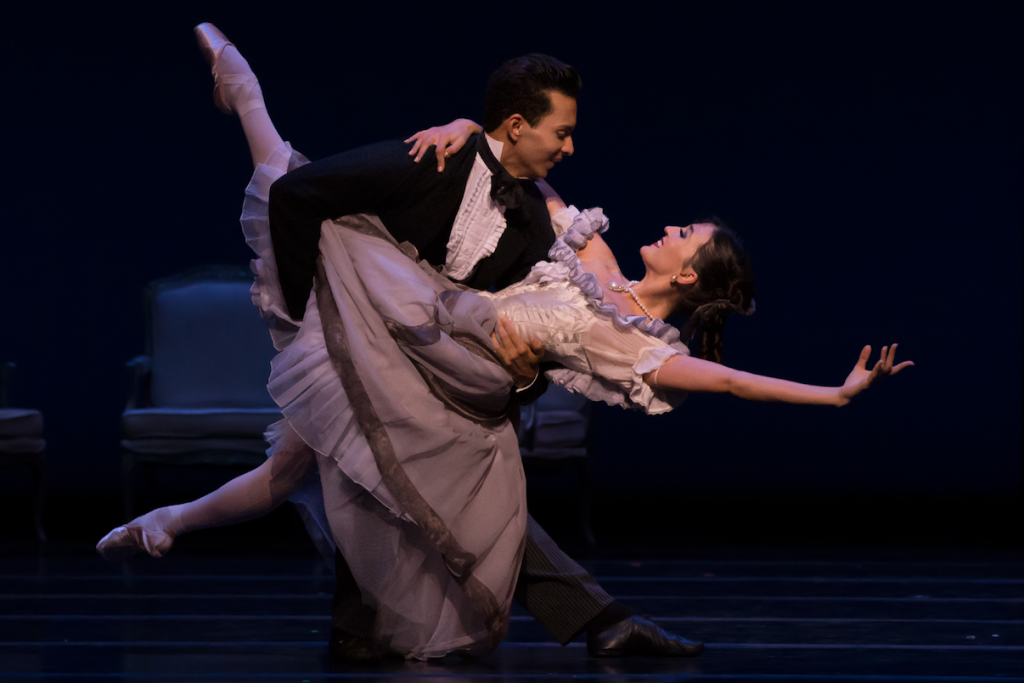 Learning a ballet role includes "silly things you end up doing in the midst of concentrating so hard—like tripping," says Mistretta, and literally "falling into each other's arms. You still have to keep looking longingly into each other's eyes, instead of 'oh, I almost fell on my face!' And you get to laugh and to surprise each other."
Mistretta has only danced with her co-star once before but has found a kindred spirit on stage. "Petite Mort was my only [prior] pas de deux with Lamin, but the difference is that [Lady of the Camellias] involves the whole person," says Mistretta. "Connection, care, and admiration evolve between dancers as they support one another."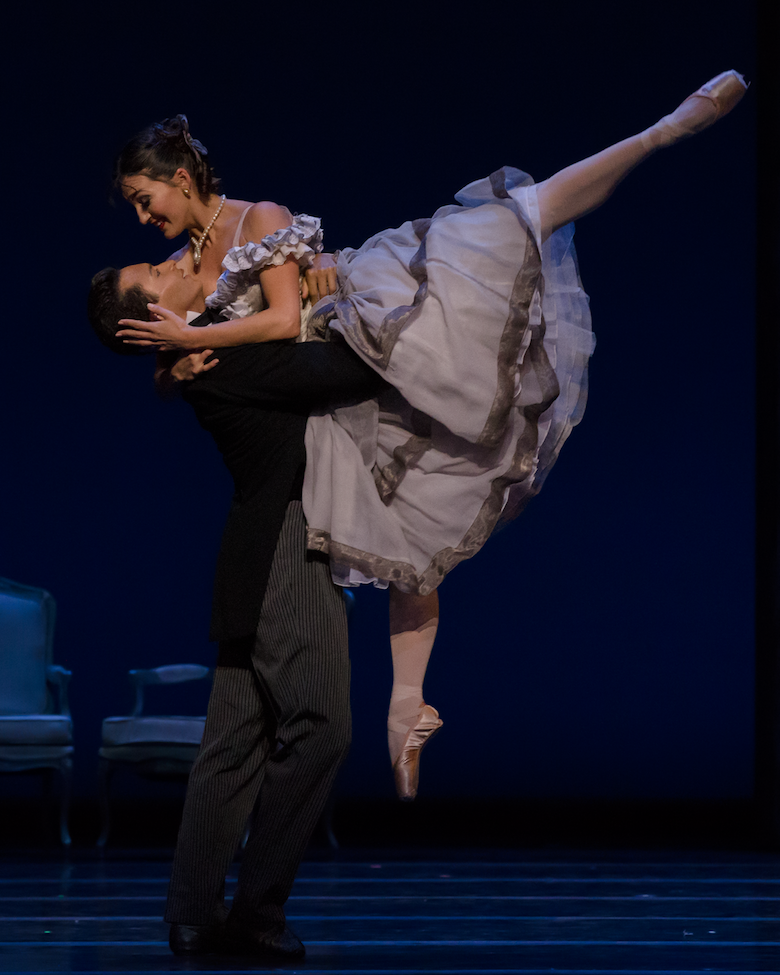 Even though this is Mistretta's first starring role in the metro, she has quite the pedigree from her time as a former Boston Ballet dancer. "I was at a crossroads a little bit—and I didn't know what direction in dance to go. I already had been in classical ballet for so long, but I had an [extensive] background in contemporary movement," says Mistretta.  She was offered a position with the Kansas City Ballet after her final performance with Boston Ballet for Yury Yanowsky's contemporary ballet, Smoke and Mirrors.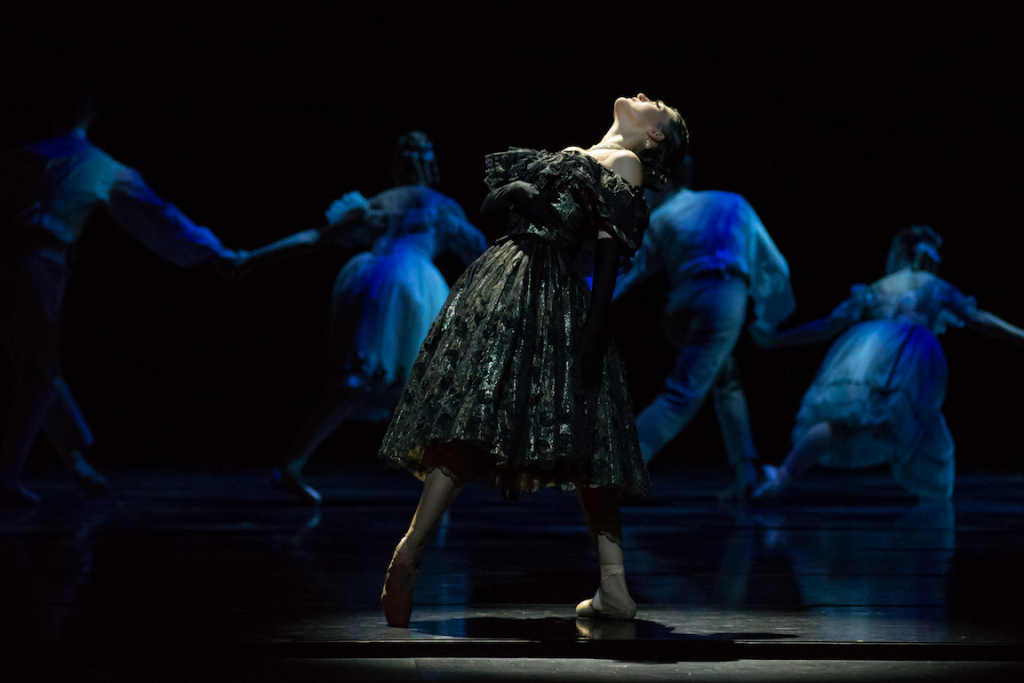 As for her own Valentine memories, Mistretta muses, "My husband and I had this secret hideaway where you can have a drink. We'd look out over a beautiful view of Kansas City from a rooftop with pools of water."
After tomorrow night's opening night performance, Mistretta and her husband will celebrate with a cocktail, the way Marguerite and Armand would have. "We love Ça Va in Westport. It's a tiny romantic little spot, like a corner of Paris," says Mistretta.
Emily Mistretta has found home and tranquility with her new city, a new company, and her debut with the Kansas City Ballet.
————————————
Lady of Camellias runs from February 15 – 24th. Emily Mistretta will be performing the nights of February 15, 17, and 23rd at Kauffman Center for the Fine & Performing Arts. For times and ticket information, click here.